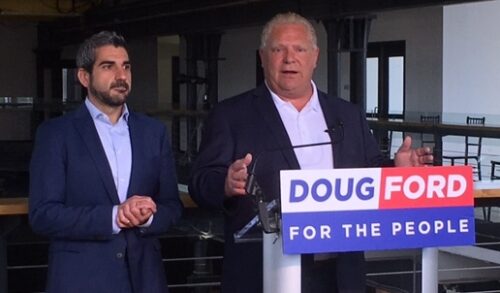 By
Randy Russon
March 31, 2020
Tweet
It is no longer just a campaign slogan. Flexing strength and the ability to govern and work with others as a true leader, Ontario Premier Doug Ford is showing that he really is "for the people."
Like him or not, Ford has stood tall and tough in making the calls to protect Ontario and its citizens in the war that is the COVID-19 pandemic.
And as the provincial leader of the governing Progressive Conservatives, Ford has put aside any political differences by, for example, embracing and praising Prime Minister Justin Trudeau and the federal Liberal government in a true show of team work.
I have talked to many people — family members, friends and industry associates — who have point blank told me how impressed they are with Ford's leadership. The same people — including school teachers — who were not Ford supporters before the coronavirus struck.
Personally, before COVID-19, I was not a fan of Doug Ford's either. But I am now, in a big way, because of the leadership that is so apparent and obvious.
Actually, until the past few years, I had not been a much of a supporter of the provincial Progressive Conservative Party over decades as a voter.
I did support local lawyer Bruce Willson as a good friend when he carried the PC banner in the 2003 election only to lose to Liberal David Orazietti, who ousted New Democrat Tony Martin as the then long-time Sault member of provincial parliament.
But I became a PC supporter again when current Sault MPP Ross Romano first ran for the provincial seat, having been very impressed with his work as a city councilor.
In the last Ontario election, I again voted for Romano in spite of Ford.
But I am a Ford fan now.
To me — and so many others I have talked to who have become Ford fans as he leads Ontario in the fight against the coronavirus — Ontario's Premier has truly shown that he is "for the people."
PHOTO: Sault MPP Ross Romano with Ontario Premier Doug Ford.