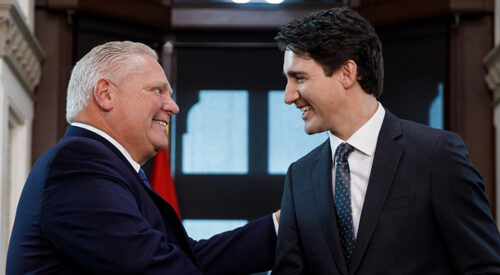 By
Randy Russon
March 24, 2020
Tweet
As we are in the midst of the COVID-19 crisis that is affecting all of us, it is truly inspiring when government leaders from different political parties are publicly supportive of one another.
Case in point was at the end of Ontario Premier Doug Ford's most recent press conference when he took the time to acknowledge Canada's Prime Minister Justin Trudeau.
"I want to thank Prime Minister Trudeau for all of his hard work and the great job that he is doing in this time of crisis," Ford relayed.
In that Ford is a member of the Progressive Conservative Party and Trudeau is from the Liberal Party, it was rather comforting and heart-warming to hear the Premier praising the Prime Minister.
PHOTO: Premier Doug Ford and Prime Minister Justin Trudeau stand together.