By
Randy Russon
July 6, 2020
Tweet
It was circa 1975 and between beers at the Purple Lantern, I studied Journalism at Sault College.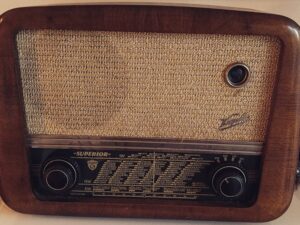 Classmates included David Gazer and Joe Petrolo and I mention them because all three of us managed to land part-time jobs at CKCY Radio while still "studying" at Sault College.
Gazer and Petrolo, with their booming, CKLW-Windsor-style voices, worked as late night newscasters at CKCY while I was the weekend sportscaster.
Thus began my media career, which is now at 45 years and counting.
Times, to be sure, have changed.
CKCY, which was the no. 1 radio station in the Sault Ste. Marie area back then, has since gone off the air.
CKCY may have signed off from the 920 AM dial but memories of those early radio years of mine remain vividly clear.
Gazer actually made it from CKCY in the Soo to CKLW in Windsor. I briefly kept in touch with him after he left the Soo but have not seen or heard from him since 1978.
Now retired, Petrolo stayed with the news radio business for a number of years before settling into a job at Ontario Lottery & Gaming at a considerably-higher pay rate than the $3 an hour we used to haul in at CKCY back in 1975-1976.
As Gazer and Petrolo were consummate pros in our CKCY days, I wasn't quite as attentive and committed as they were.
Oh, I never missed a shift or an assignment but reading sports part-time on radio was less of a priority than working as a waiter and bartender at the Windsor Hotel, where I made a lot more money.
Those were good days amid a cast of radio characters, none of whom I will forget.
There were Gazer, Petrolo, Sam Kaplan and Denise Daniels on the news side, Paul Leonard Sr. and me at the sports desk and disc jockeys that included Kennedy, Tony Chipman, Dave Carter, B.W. Martin, Robert E. Lee, Phil Parks, Tony Dee, Don Wayne, Tony Marziale et al.
The legendary "Voice of the Soo Greyhounds" Harry Wolfe also served as station manager and Russ Hilderley was the program director.
The radio was good — even if formal training of announcers was next to nil — and it was live, 24 hours a day, seven days a week.
I have managed to stay in the media business all these years, both as a broadcaster and a writer.
The media industry has changed — that's the way it goes.
And regardless of the many good people who I have met, worked with and worked for over the years, I like to reflect back to the 1975-1976 days at CKCY Radio.
$3 an hour, 25 cent draught beers and cab rides home with my radio buddies Joe Petrolo and B.W. Martin.
And let it be forever known that it wasn't Petrolo or me who puked in the cab.