By
Angela Romano
July 21, 2020
Tweet
For thirty-seven years, Jasmine Ladies Fashions has been a fixture in women's clothing at first from its location for many years in the Cambrian Mall and now in its current location in downtown Sault Ste. Marie.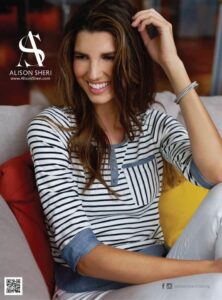 Owner Linda Caputo tells Sault Business Matters that she began her journey in the retail world as a buyer for the Shoe Corporation of America but always had an interest and love for women's fashion.
Right from the start, she developed a loyal clientele and she, along with her long-time and friendly staff of Nancy, the store manager, and other long-time staff members Chris, Mary, and Ida, all enjoy helping women find the perfect outfit for occasions of all kinds.
It is quite evident that regardless of your personal style, you are sure to find something that suits your taste and even your budget.
One of the misconceptions that exists regarding Jasmine is that everything there is on the higher price point but Linda points out that there are many items that are affordable for all and after a look around, she is quite right.
The store does also carry well-known designer labels, many of which are Canadian, such as Frank Lyman, Shannon Passero, Alison Sheri by Elena Wang and Compli K, a made in Canada line that aims to focus on the everyday woman with a goal to impress.
It is also worth noting there are also many budget friendly and very cute, young, fresh labels like David Kline and the Hue line who make fresh, modern, comfortable yet stylish leggings that are all age appropriate that start at a mere $35.00.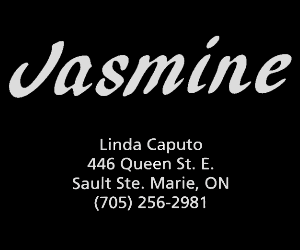 Linda tells Sault Business Matters that Jasmine caters to all age demographics and have customers from all over the province including Chapleau, Ottawa, Manitouwadge, and even Thunder Bay.
She is grateful for their patronage over the years because there is so much competition these days especially with online shopping. To attract young professionals, she has made a point of selecting lines and designs that appeal to all ages.
There is something for everyone at Jasmine and it is this message in particular that Linda would like to emphasize. When asked about the biggest change she has noticed in women's fashion, Linda quickly responds with the fact that women are looking to wear more casual fashion and for that reason, you will notice a concerted effort to carry lines that can easily go from casual to formal.
She also has an extensive line of accessories, likely one of the largest selection we have in Sault Ste. Marie. The store carries many beautiful handbags, scarves, shoes, costume jewellery, stylish and fun summer dresses.
It really is a one stop shop that can take you from casual to fancy. It is the place to go for an outfit for any occasion from weddings, to formal events, business attire or just plain every day wear.
For those of us ladies who might want a little help smoothing out our curves, Jasmine is the only place in town that carries the popular line of Spanx shapewear and in fact is the only place in northern Ontario that carries the line.
Please call 705-256-2981 for the current hours of operation at Jasmine.
From casual styles including knitwear, lightweight and soft cashmere, work wear, bold and bright colours, summer styles, confident, comfortable styles, evening wear, outfits everyday styles, patio nights, whatever your style, Jasmine can help!