By
Randy Russon
August 31, 2020
Tweet
Spruced up on the inside and outside but with the same iconic look, Reggie's Place Tavern is set to re-open for business on Tuesday at 11 a.m.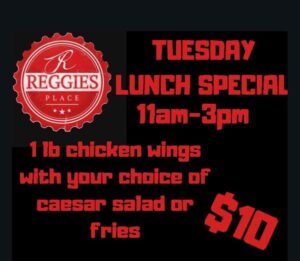 With new operators Randy and Kylie Lapossie at the helm, Reggie's Place Tavern — located just past March Street on Queen Street E. in the Sault's downtown– has has been getting ready for its September 1 re-opening for the past month or so.
It will mark a new chapter for the local watering hole which had become a popular gathering place for folks of all ages and many walks of life for well over 25 years under previous operator Reggie Daigle.
It has been a tough few years for the downtown landmark, which first closed on July 30, 2017 when a fire that started upstairs caused considerable damage to the upper level of Reggie's.
Then, after finally re-opening on June 3, 2019, it wasn't very long before an illness in the family led to Reggie's again having to close its doors.
Then came a province wide shutdown relative to COVID-19 in March of this year that kept Reggie's closed.
But now, Reggie's is set to re-open at its familiar downtown site with new operators.