By
Randy Russon
September 14, 2020
Tweet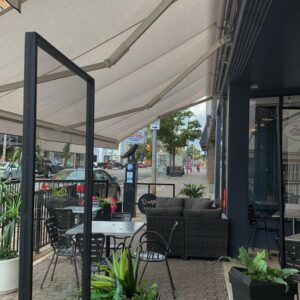 There is collective effort being made to sustain and maintain business.
Any good city needs a thriving downtown and the Sault is no exception.
Issues remain — issues that might be resolved with more police presence at night and more support from local government — but the Sault's downtown has businesses new and old that are more than doing their part to keep the area going.
For example, throughout the heat of the summer and into the cool down of this month, Mane St. Cafe has remained open with regular hours six days a week, serving customers at a social distance on its well maintained patio and within its spotless indoor setting, offering daily drink and food specials.
Arturo Ristorante added an outdoor patio to its splendid space inside and brotherly owners Chris Comegna and Thomas Comegna are so committed to the downtown that they have expansion ideas for next year. The fact that one of the Sault's absolute best fine dining establishments has such a commitment to the downtown is a credit to the Comegna boys and their staff.
Also on the patio front, the relatively new Big Lake Cabin has been a hit with customers with very friendly service and a tasty, rather unique menu.
Reggie's Place Tavern, which had been closed for the better part of three years, reopened on the first of September under new operators in the hard working, husband and wife team of Randy and Kylie Lapossie. Clean and spruced up, the return of Reggie's has been a big plus for the Sault's downtown.
Still, business owners have concerns about the downtown area, much of it owing to petty crime and vandalism that is cause for consternation.
Let me say that I live downtown and have so for almost three years now. My wife and I like it downtown and we have no plans to relocate.
And as daily consumers who support downtown establishments to the tune of hundreds of dollars a week, we do feel relatively safe where we live. But we could feel safer.
While we do see police patrolling the downtown during the day, we see very little presence at night. And it is night time when much of the petty crime and vandalism takes place.
Though I do somewhat support the work of the local police force, I do believe that there is a need for more presence, especially at night. During the week days, when the downtown is fairly busy, I don't think there is as much need for police patrol as there is at night.
At any rate, I applaud the steely resolve and ambitions of those business owners who continue to invest in the Sault's downtown. And it is encouraging that many of the restaurant and bar owners are younger people in their mid 30's and 40's.
They are taking a chance and they are sticking it out, even during these uncertain times.
To those mentioned above and to the many other small businesses that are keeping their lights on and workers employed in the Sault's downtown, take a bow.
And for any other sector that might step up and not only do its part but go above and beyond the call of duty, please do so.
'We are in this together' should mean just that.