By
Randy Russon
October 13, 2020
Tweet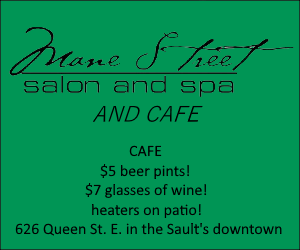 Krista Nolan, who owns and operates Mane Street Cafe in the Sault's downtown, has outlined plans for her neat, tidy and comfortable little eatery as fall heads towards winter.
Besides offering $5 pints of draught beer and $7 glasses of seven ounce wine, Nolan tells Sault Business Matters that she plans "to keep a storefront patio of some sort through most of the winter."
To that end, Nolan and her husband, Aaron, have already equipped the newly designed patio that extends all along the front of Mane Street Cafe — which is located at 626 Queen Street E. — with outdoor heaters.
And in addition to the $5 beer and $7 wine specials that will continue until next spring, Mane Street Cafe has come up with a new menu that befits the fall and winter seasons.
The healthy menu will include meatloaf sandwich, harvest quinoa, zucchini noodle pad Thai, fettuccine Alfredo with fresh grilled seasonal vegetables, Sicilian pasta with artichokes and capers and breaded eggplant parmigiana.
The latter two items are a specialty of Krista's mom, Jill Hryniewicz.