By
Angela Romano
November 13, 2020
Tweet
For the past 35 years, the Comegna family has been bringing incredible Italian cuisine to Sault Ste. Marie — first at their location on Gore Street and since 2002, at their current spot, 515 Queen Street East.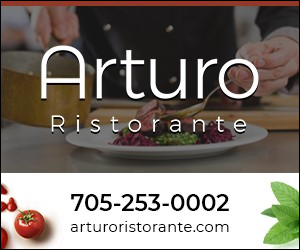 The founder of Arturo Ristorante, Arturo Comegna, well known in the local food scene, laid a strong foundation for success for his two sons, Thomas and Chris, who took ownership in April of 2011.
Both Thomas and Chris, despite their relative youth, have been involved in the business for the past twenty years, having learned at a young age, from their dad.
Thomas, co-owner and curator oversees the entire front of house business operations while Chris, also co-owner, serves as the executive chef responsible for preparing all of the fine dishes that people have come to love at Arturo's. Chris also oversees the kitchen operations.
It was a before-opening, afternoon that I had a chance to sit with the personable, easy going, and friendly Chris to chat about what makes Arturo's so special and so successful in the challenging restaurant industry.
(By the way, the personable and observant Chris noticed my yoga mat since I was next on my way to a much needed yin yoga practice after our chat which led to an in depth yoga discussion. Many of you reading this might be surprised to learn that Chris is a yoga enthusiast and in the last few years has discovered the wonders it can do especially for those with injuries like he has. Disclaimer: always seek professional advice before trying yoga to make sure it is right for you. I was surprised to learn he even aspires to perhaps one day get certified to teach yoga since he is amazed at how much it has helped him with his chronic pain and for his mental health. I could go on and on about this topic as could Chris but my reputation as a bit of a foodie is also well known for those who follow my social feeds so it is a good thing that this story is about food and Arturo's to be specific!)
I asked Chris if he always had aspirations to be a business owner and he told me a story that even as a child in grades 2 and 3, his school books were covered with the words "CC Inc." in his own printing. So yes, even at a young age he was already thinking about potential names for his future business. In addition, many of his family members are self employed, so it is kind of a family trait. He never had a strong desire to follow a different path or in his words "get a regular job" and both of the Comegna brothers enjoy the creative freedom that comes with owning your own business.
According to Chris, if you are doing well at something you enjoy then that is all that matters. Noting the longevity Arturo's has had in very competitive and difficult industry, I asked Chris for advice for those thinking of pursuing a career in the food industry. He indicated by far, before even enrolling in any courses, it is really important to get yourself employed in a successful restaurant to really get an understanding of what's involved and to make sure it is indeed the right fit for you. If after doing that you still love it and are passionate about it, then enroll in a culinary program.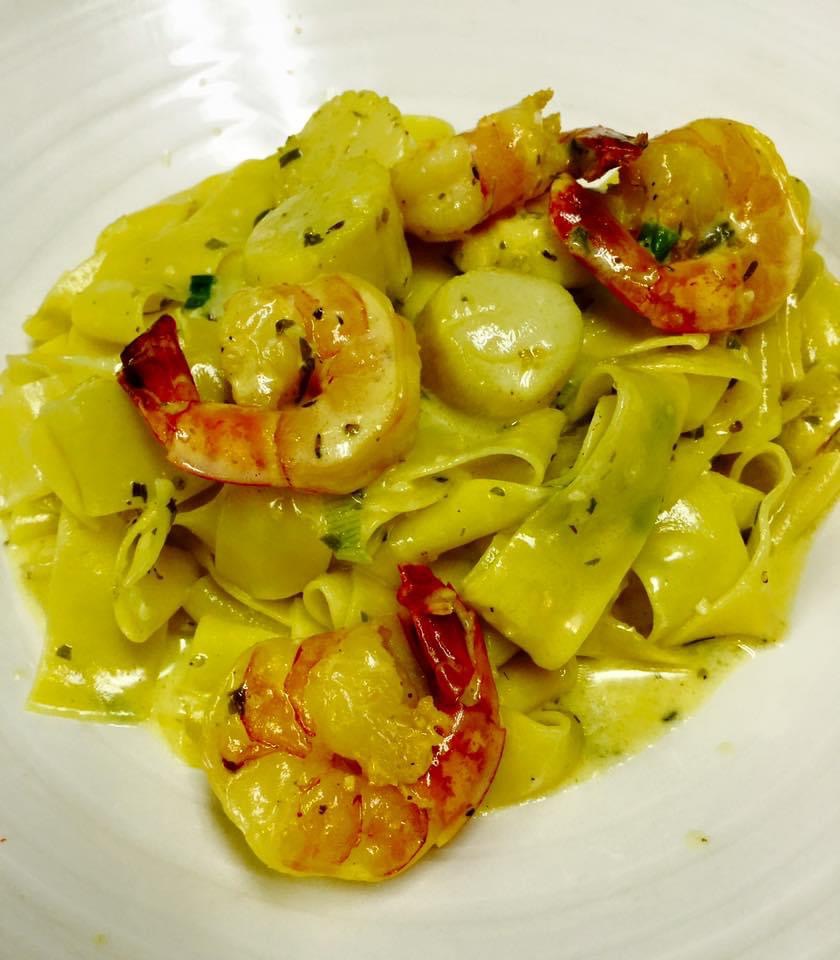 Over the years, Arturo's has garnered the reputation of being a very fine dining establishment but Chris assures Sault Business Matters that the atmosphere they aim to create is a come as you are, welcoming environment where you feel as though you are a guest at their home. There are no dress codes and it is the kind of place where you won't feel as though you are being rushed. They have never been a volume type establishment and are proud of the fact that people seem to like to stay a while.
Being a foodie, I had to ask what is the best selling dish currently and without hesitation Chris replied that his take on a veal saltimbocca is by far the biggest seller. As he described his version using bocconcini cheese and prosciutto, I admit I may have started to salivate!
Other popular dishes include the pappardelle allo zafferano, a seafood pasta with sautéed shrimp, scallops in a saffron infused sauce and the rack of lamb or really anything they do on the grill.
They have scaled back the menu during these challenging times and in order to avoid food waste. They do try to source some of their ingredients locally getting some produce from the local region, Mennonite farms, local whitefish, and beef from Penokean Hills Farms.
A question that I felt compelled to ask is whether or not people hosting him for dinner get nervous or stressed out cooking for an accomplished chef and he admitted that yes, people do freak out but he then laughed and said he isn't really that hard to please. At home, he eats pretty simple even using Good Food kits for his family just to try out new styles of cuisine and yes, he even eats Kraft Dinner on occasion! This led to a discussion on how disappointed I was when I decided to make some KD after some 10 years or so and was sorely disappointed since the new version does not taste anything like it used to!
So who are some of his cooking influences? Or course the founder himself Arturo Comegna who Chris said taught him some valuable lessons but it was really the female relatives in his family that were all amazing cooks who helped shape him, his aunts, his grandmother, his mother who cooked amazing and simple "peasant" food and lots of vegetable based but hearty meals.
He learned how to adapt and upscale these Abruzzese dishes to make them more restaurant quality. The six months he spent in Italy learning to cook from his family members and observing the chefs there in simple, rustic trattorias inspired him and taught him a lot. He then completed the culinary arts program at Sault College. Lidia Bastianich would be the celebrity chef that he most identifies with likely because she cooks similarly to many of the great family members he learned from.
I posed a hypothetical question to Chris. What if you knew your next meal would be your last one, what would it be? His reply led back to his time spent in Italy. He says it would have to be this amazingly simple but delicious artisan cheese called stracciata that his uncle introduced him to in Capracotta, Molise, Italy. It is stretched into ribbons or braids and kind of looks like a loaf of bread that can be torn into pieces and the name itself comes from the verb stracciare, meaning to tear. The cheese is buttery, mild, sweet and yet a little salty on the outside while the inside is more tangy and milky. It almost reminds you of warm, melted butter. Chris said he would be more than happy with that as a last meal, served drizzled with olive oil and a nice crusty bread.
In another hypothetical scenario, if given the opportunity to open another dining establishment, he revealed he likely would go a completely different route in style of cooking and maybe open a place serving gourmet burgers or an English pub or even a butcher shop that had a deli/hot food counter. However, there are no immediate plans for any of these, just a hypothetical exercise given the current challenges felt across the province and the world really. Chris appreciates the government assistance that has helped them to navigate the challenges that Covid-19 has presented and appreciates the support the community has shown.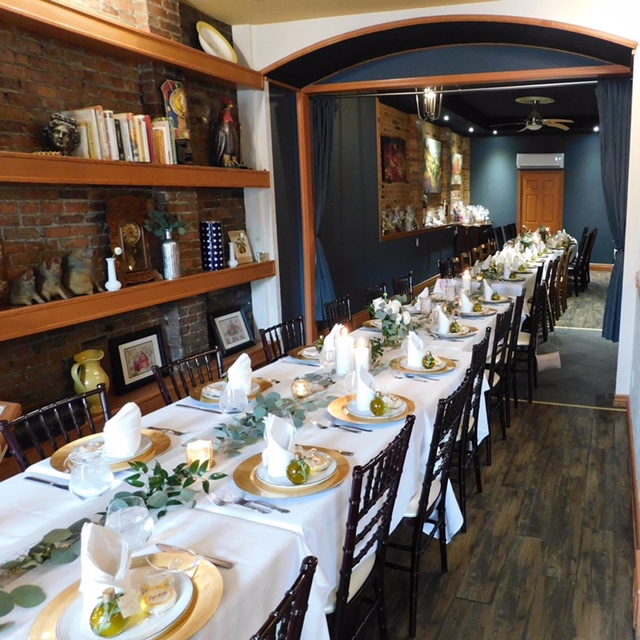 Some surprising things you may not know about Arturo's is that they are on Skip the Dishes and Uber Eats. In addition, the upper level of Arturo's is available for private parties and can be divided into three separate spaces accommodating parties of various sizes. It has a large screen available and is wired for HDMI making it a great space for meetings/working dinners/staff team building, showers , birthdays etc. There is no rental fee as long as you are ordering food from them.
Future plans are exciting and include a large rooftop patio in the rear of the building that, after some changes are made to the landscape, will offer a nice view of the waterfront and will accommodate up to fifty people. If all goes as planned, this patio will be the primary summer/fall dining experience in place of indoor dining whether permitting.
Arturo's current hours of operation for indoor dining are Tuesday to Saturday from 5-10 p.m.
Reservations are recommended by calling 705-253-0002 and their menu can be viewed on their website at www.arturoristorante.com.