By
Angela Romano
November 24, 2020
Tweet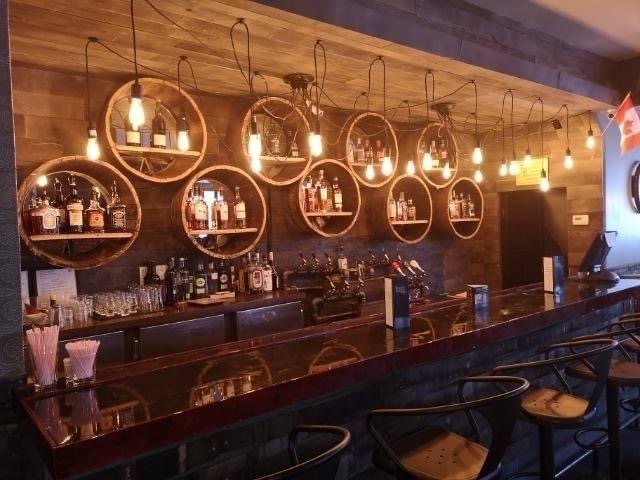 A recent Friday the 13th seemed like a good day as any to stop by The Whisky Barrel to have a chat with one half of the duo that owns this welcome addition to downtown Sault Ste. Marie.
Since it was a vacation day for me from my "day" job, I even got to treat myself to a drink while we chatted, a rye and coke in case you are wondering.
When I arrived, the exuberant and personable Dunbar Thompson, co-owner of the Whisky Barrel, was working alone and chatting with a first time visitor. And while I sat at the bar waiting to chat, I was able to witness why people quickly become fans of the vibe offered at the Whisky Barrel.
In his engaging and personable way, Dunbar was able to educate this first time visitor on the differences between some of the popular whiskeys they carry and within a few minutes, this gentleman who was killing time while his vehicle was getting serviced, promised to return soon with his wife because he was so impressed with the atmosphere, the variety of whisky/drink options and the Scottish pub menu available.
In fact, they had a lively discussion about pumpkin beer with the visitor being definitely anti pumpkin beer but Dunbar explaining that if it is done correctly, it can actually taste quite good. He used an interesting analogy that it's like the difference between getting a cappuccino from a barista and one from a self-serve machine, both are cappuccinos but one will taste way better!
It was nice to watch great customer service in action and a reason why the Whisky Barrel has found success in a tough industry. On November 13, the Whisky Barrel celebrated its second year in business and it has been a fun ride so far according to Dunbar.
Dunbar always wanted to open a restaurant and when his career as an electrical engineer came suddenly and unexpectedly to an end, he and his wife decided to look more seriously at the possibility of opening a restaurant and come up with a plan that would be more likely to be successful.
Being a bookkeeper, Melissa in particular wanted to ensure that they set themselves up for a successful venture and as Dunbar outlined, alcohol will always help to bring in more money and so they wanted to make sure that a unique product and variety of drink options would be a big part of the business. And with fifty whisky options currently as well as several beers on tap, wine, and other drink options they have that covered for sure.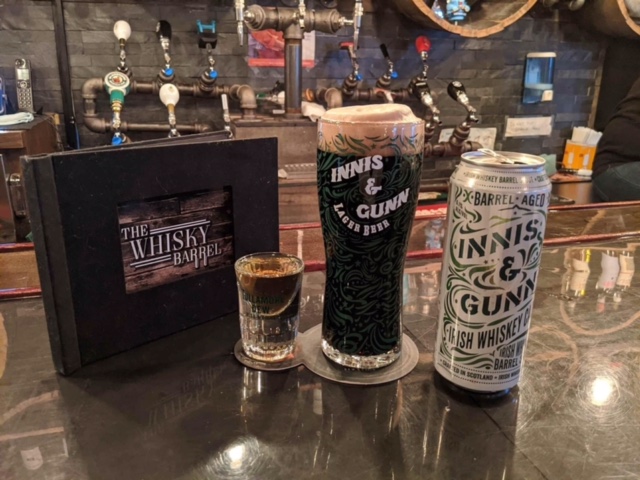 The Sault didn't have a Scottish pub and so it made sense to do something different and unique and do it well which they have done in spades. The interior design of the pub is definitely reminiscent of a true authentic Scottish pub and it is no secret that they were greatly inspired by a trip to Scotland they took in May of 2018 and it was their intent to try and recreate that vibe here in Sault Ste. Marie — and that they have.
Dunbar tells me that a "pub" is the short form for what is also known as a "public house" where people go to sit and play games, be social, listen to music and he felt that this was missing in the Sault which also inspired the vibe they try to create at the Whisky Barrel.
In fact, he tells Sault Business Matters that the average sit time at the pub is four and a half hours because people like to sit and stay a while. He even joked that he has had to cash people out several times in one night because they often end up staying longer than they planned and he is more than okay with that.
I asked Dunbar if he has always been a whisky connoisseur and he told me how it was a visit to Garlic's in London, Ontario in 2006 when he was living there when he first tried Scotch whisky for the first time and he excitedly told me how he had never had anything so smoky and delicious in his entire life and it was at that moment his love of Scotch began, in particular Lagavulin Scotch which is arguably his first choice.
Currently, Dunbar stocks 50 whiskys including Scotch, bourbons, and Canadian types. For those wanting to sample a few, whisky flights are very popular. Beer flights are also possible.
Not a fan of whisky? Not to fear, the Whisky Barrel offers a plethora of other options as well including many beers on tap or by bottle, ciders, red and white wine, liqueurs, standard spirits, and some creative cocktails such as the Heeland Coo, Robbie Burns, Moscow Mule, and the Black Scotsman to name a few.
Looking for some food with your drinks? That can be arranged with a very nice Scottish themed pub menu available.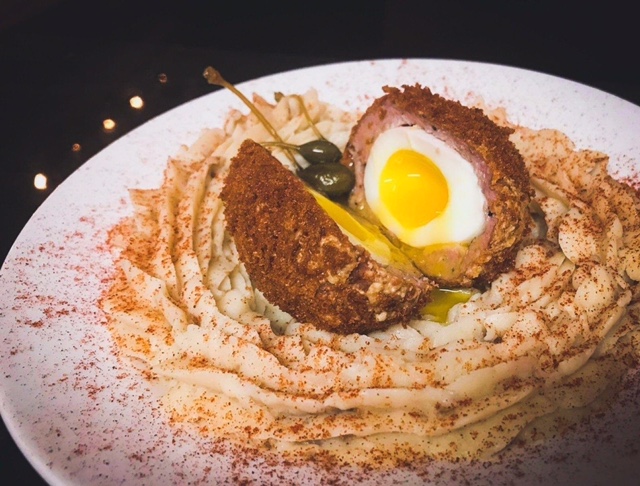 Dunbar calls himself a hobby chef and having sampled the food myself, he is a great one! Fish and chips and the Scotch egg are by far their best sellers but other popular and unique to the Whisky Barrel pub are the Scotch pie, Bangers and Mash, Haggis with Neeps and Tattie, Smoked Haddock au Gratin, and Balmoral chicken and their daily featured soups are made fresh and delicious!
Lighter appetizers for snacking/sharing are also available and include fish cakes, deep fried pickles, popcorn mussels, deep fried mushrooms that are house made and not those frozen ones and the Scotch Canadian, their spin on a poutine like dish.
Have a kilt? Wear it on a Tuesday night and get your Scotch egg or Scotch pie for half price.
Covid-19 has been a challenge to those in the food and drink industry but Dunbar says they are doing pretty well considering, even saying that in August they did really, really well and the patio addition really helps in the summer and early fall. They have appreciated the support they have received from the people of Sault Ste. Marie and accessing government assistance was also helpful.
Over the years, Gore Street has earned a reputation of being a dangerous place to have a business but Dunbar assured me that he hasn't really experienced any major incidents and adding extra lighting has made a world of difference and he feels people have this notion that the street should be avoided but in his words, "Don't be afraid of Gore."
For business owners just "light up" your business and it will help deter unwanted activities.
Dunbar welcomes you to visit what he hopes feels like the world's best man cave at 113 Gore Street. Follow them on Facebook or Instagram to stay up to date on all their promotions!
One final message from Dunbar … no, they do not take reservations but please stop by anyway!