By
Randy Russon
May 14, 2021
Tweet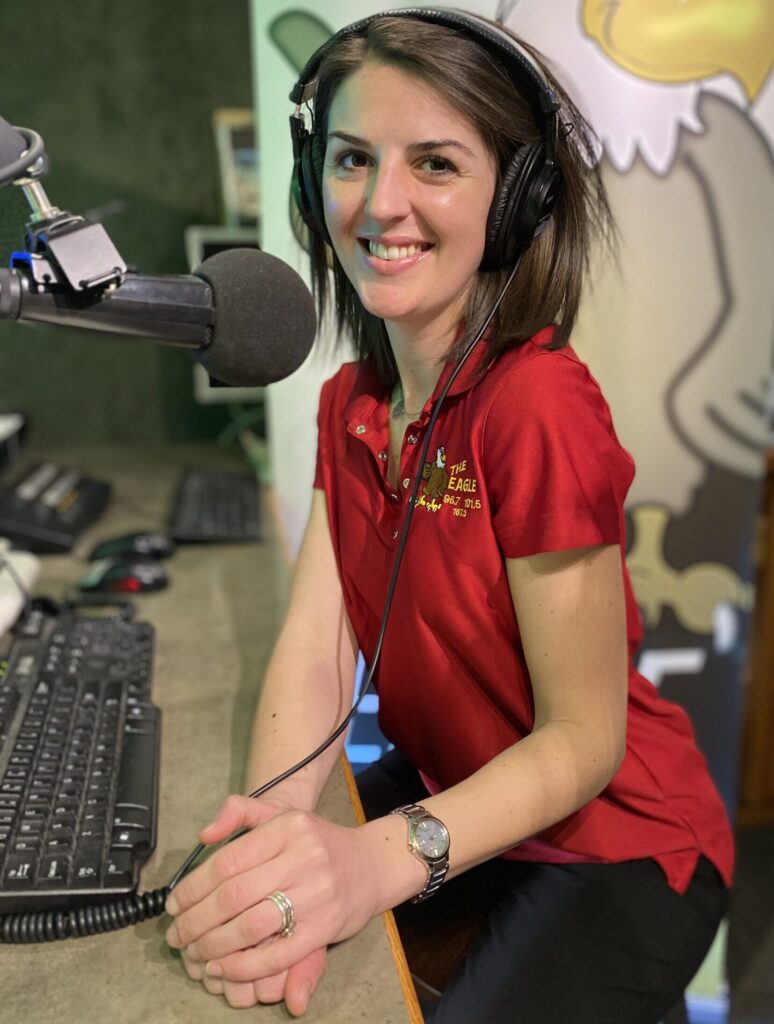 There is another Ellis now spinning the timeless, endless classic hit tunes on local radio station Eagle 95.1.
Lindsay Ellis recently took over the 10 a.m. – 3 p.m. time slot on the Eagle. Her shift follows the 6-10 a.m. 'Rise and Shine Morning Show' that is hosted by her husband, long-time local radio personality Tim Ellis, aka Timmy E.
The Ellis's have been local owners and operators of Eagle 95.1 for just over two and a half years.
Lindsay's recent return to the Eagle in a full-time capacity as announcer, promotions manager and advertising sales rep follows her local employment as a health care behaviour tech and a marketing and events gig with the Michigan Sault's Downtown Development Authority.
Like her husband, Tim, Lindsay is a passionate community volunteer and activist.
Meantime, in returning to Eagle 95.1, first as co-owner of the radio station and now in a more active, hands-on role as an announcer and sales rep, Lindsay has come full circle as a broadcaster.
Her radio history began in 2013 when she worked the 6 p.m. to midnight shift on Eagle 95.1 as well as doing local and regional sales for the station.
Lindsay tells Sault Business Matters that she had radio in her blood long before she got into the business.
"I can recall having visions of wishing to work in radio while in my youth," she relayed.
Later, while bartending at Applebee's in the Michigan Sault, she happened to meet Travis Sumbera, a former announcer at the Eagle.
"Once I knew he worked in radio, I began planting the seed for finding my way in. Every day before my bartending shifts, I would show up to shadow Travis, literally just to watch him do his work, as I was always fascinated by the inner-workings and magic of radio.
"I did this for months before officially being offered a sales position and on-air shift (by the former owners of the Eagle)," Lindsay recalled.
Ironically, it was back in 2013 while working at the Eagle that Lindsay first met her future husband Tim, who at that time was an announcer with rival local radio station Yes 99.5.
Now, being married to Tim, co-owning the radio station with him and being back on the air again at Eagle 95.1 is all about "being in the right place at the right time, and linking arms with the right people who have taken me far," Lindsay relayed to Sault Business Matters.
"I have so much gratitude for the moments of my path that have allowed me to bloom where I was planted and where I chose to grow," she added.
Lively and personable, just like her husband, Lindsay is part of an Eagle radio station that not only serves the Michigan Sault and the Upper Peninsula but is attracting more and more of an audience from the Sault, Ontario area via 95.1 on the dial and its supreme www.eagleradio951.com on-line presence.