By
Angela Romano
July 5, 2021
Tweet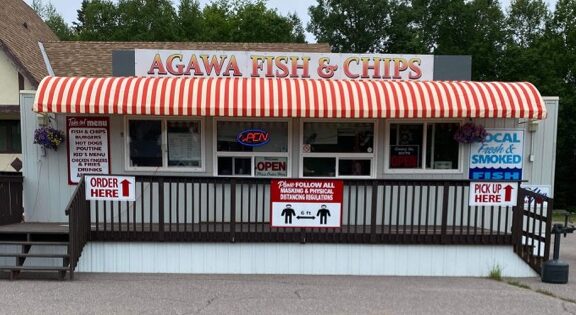 There is nothing better than a fish fry using fresh locally caught fish. Am I right? Lucky for us in the Algoma region, we have access to some pretty amazing fresh local fish courtesy of a family run operation, Agawa Fishery.
Agawa Fishery has been serving the region for 35 years and as Marlene Agawa tells Sault Business Matters, it truly is a fun family affair with her husband and co-owner James, their daughter Felicia, son Joseph and daughters-in-law Charlene and Taylor, brother Chris, sister-in-law Sherri and numerous nieces, nephews, and cousins all involved in some way. James Agawa Jr. is the lead deckhand on deck and he also stands in for James (Senior) when he needs help.
How amazing is that?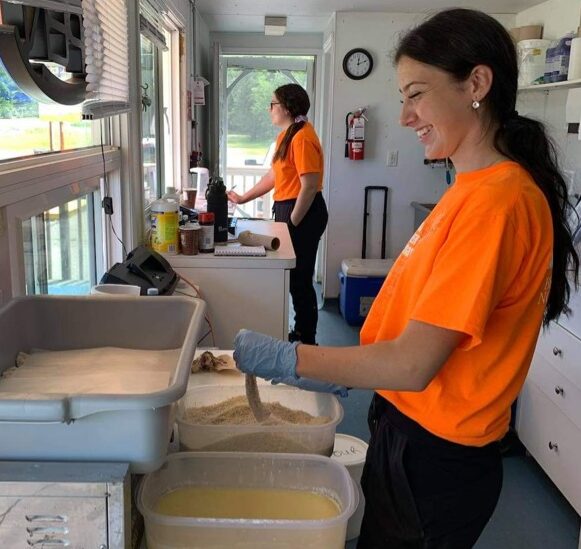 The fish comes from Lake Superior primarily and for those of you not yet familiar with their amazing products, they sell fresh and frozen locally caught whitefish, fresh and frozen lake trout, other fish species that end up in their nets such as salmon and pickerel.
The pickerel for example, I was fortunate to get a couple of weeks ago myself at their stand at the Mill Market and you can not beat the freshness! In addition, they also offer their very popular smoked whitefish, smoked lake trout, smoked whitefish pepperettes, and delicious smoked lake trout cheeseballs which are great for entertaining, snacking or adding to your charcuterie board!
You can buy their products at their stand at the Mill Market on Saturdays from 9:00 a.m.to 2:00 p.m. and often the fresh and smoked fish is also available at City Meat Market. They also supply several local restaurants with their fresh fish. In fact, Marlene tells us their products are sold to many local businesses all along the north shore to the east of Sault Ste. Marie.
Four years ago, a friend was selling his fish stand and contacted Agawa Fishery owner James telling him "since you are catching the fish, selling it fresh and frozen, why not cook it too?" That, my friends is how the Agawa Fish & Chips stand was born and it has been a welcome addition to the local food scene with many traveling to get some of their awesome fish and chips in Pancake Bay! It is located across from Agawa Crafts on Highway 17 North.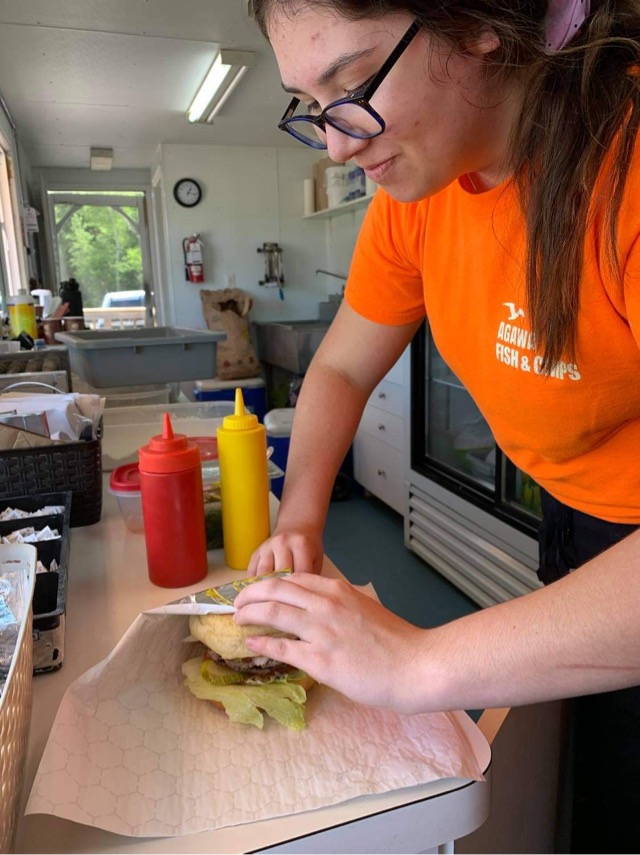 Menu items include fish & chips (of course), hamburgers, cheeseburgers, bacon burgers, chicken burgers, fish burgers, fresh cut fries, poutines, onion rings, munchers, deep fried pickles, jumbo and regular sized hotdogs, and drinks. They also have a kids' menu! Did I mention that the fries are fresh cut? Their fish is by far the biggest seller.
People love the tug to plate concept and of course, their fish is supplied by them and always fresh. Marlene says they will only sell their freshest product! The Fish & Chip Stand will run until September with last day dependent on the weather. They generally open for the season around June 30th for the summer. The Stand is open from 12:00 noon to 7:30 p.m. Tuesdays to Sunday, closed on Mondays.
Agawa Fishery is super proud of the fact that they offer employment for locals in the hospitality and food industry. In the Fish & Chip Stand they employ six employees, on the fish tug they employ four deckhands, one truck driver and maintenance worker, plus they employ two to three employees at Mill Market, and two employees at the fishery itself. Marlene says that even though it is hard work and sometimes weather can affect their operation, she absolutely loves her job and her customers who she considers friends. Their customers understand the fact the bad weather is a big issue in the fishing business and are willing to wait for the freshest product. Marlene and family so appreciate the customer loyalty.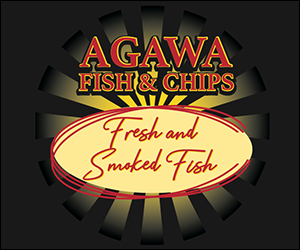 By the way, Marlene thanks Sault Business Matters for the noticeable increase in business since coming on board recently with advertising on our site. In fact, she says business has been really good so word is definitely getting out that they are the place to go for a great feed of fish and chips or for any of their delicious chip stand offerings.
When asked about future plans, Marlene hinted that something is in the works so we will be sure to keep you posted. Follow Agawa Fishery on Facebook for updates but better yet, take the scenic drive up Highway 17 North and taste some of the finest, freshest fish you could ever ask for … you won't regret it!