By
Angela Romano
July 26, 2021
Tweet
Since 1992, the multi-faceted SK Group Inc. has been serving the Sault and area offering top notch customer service.
It started out primarily as an embroidery business but then securing a larger space in 1996 allowed for expanded production facilities, more equipment and thus more capabilities.
In 2014, a shift in ownership occurred making it proudly a female led and owned company with Sherry Berlinghoff at the helm. Shortly after this change in ownership, they expanded their services even further with the launch of their custom online store platform which is the focus of this feature story.
Since 2010, they have been located at 238 Queen Street East, and now have an impressive 11,500 square feet of space for production. They now offer a wide range of options which include screen printing, digital heat transfers, wide format printing and full service copy and print shop.
The beauty of the SK Group online store platform is that it gives their clients the ability to tap into the power of e-commerce. Not only can SK Group produce quality branded merchandise for your business or organization, they can also help you set up your own online store, making it a breeze for businesses, teams, schools, organizations to sell their spirit wear, fundraising items, employee wear, business material ordering and so much more.
The stores they set up feature flexible design options, 24/7 access and 100 per cent security in the checkout process. Sault Business Matters spoke to operations manager Jessica Sommers recently and by and large the message she wanted to convey is that the beauty of letting SK Group Inc. assist you with your merchandise needs using an online store that they set up is that it streamlines all the back end work.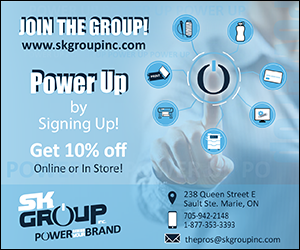 This means you as the business or organization don't have to deal with inventory, sorting, packaging or even distribution since they can even take care of that. How amazing is that? Imagine the time saved for businesses and organizations who, let's face it, can always use some extra time in a day.
The days of keeping tracking of who ordered what, who owes what, arranging delivery etc. can be a thing of the past if you work with SK Group Inc. They can even set up pick up of merchandise to be at their spacious location in person or curb side which they have been doing a lot during the times we have been living in.
In a nutshell, SK Group Inc. is happy to set up a private store for your organization and take a lot of the workload off of you as the business owner, team, school etc. As Jessica outlined, they will work with you every step of the way from design selection, what items to stock, how the store will operate and it is something they excel at. Just sit back and let SK Group Inc. become part of your team and you will see results, great ones!
If there is a fundraising idea you have been toying with and need help figuring out the logistics, reach out to SK Group Inc and they can likely assist. Some of their recent local online stores they have set up include Sault College Athletics, Superior Heights spirit wear, Korah Collegiate spirit wear, and White Pines. Here is an example of one that is live right now! https://store.skgroupinc.com/saultcougars/shop/home
Why choose SK Group Inc. for your branded merchandise needs? By and large, the team at SK Group Inc. believe that their business is more than just what they produce. Success is measured by the relationships they build and the trust they hope to earn. By choosing SK Group Inc., you will have them as an extension of your team and thus they will share in your challenges, goals, and ultimately the end goal, your success!
They pride themselves on being passionate, enthusiastic, and creative as a work team so that they can provide a top notch experience for their clients. Above all, they genuinely love what they do and it shows!
SK Group's storefront located at 238 Queen Street East is open 9 a.m. – 5 p.m. Monday thru Friday. You can reach out to them anytime via email thepros@skgroupinc.com and their team will respond to you within 24 hours (excluding weekends). Staff can also take your call at 705-942-2148 or1-877-353-3393. Visit their website at www.skgroupinc.com to learn more about this outstanding business proudly serving the Sault and Algoma region since 1992.
SK Group Inc.: Helping you make your mark … then, now and into the future!