By
Randy Russon
October 3, 2021
Tweet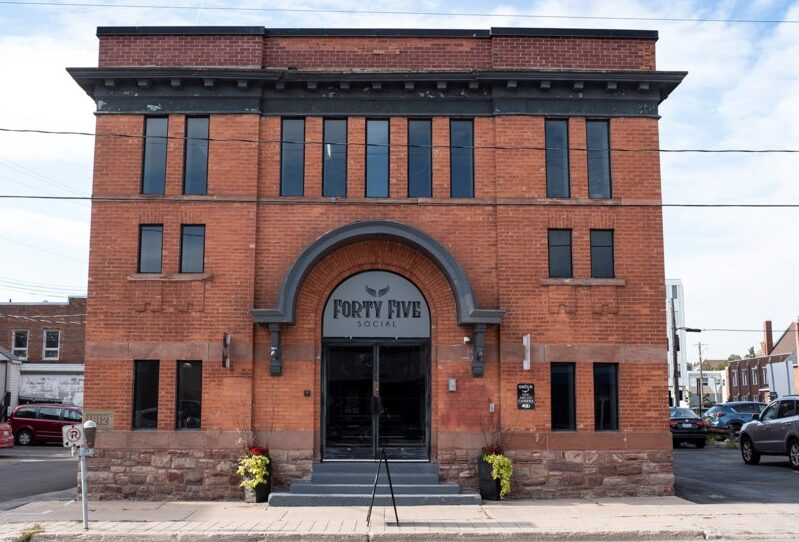 If you work, live, or frequent the Sault's downtown, you just may have taken note of the modest growth that the area has experienced over recent times.
Forty-Five Social, which includes a men's clothing store, barber shop, bar and cafe, along with Lucy Ro Clean Beauty, is just the latest local business enterprise to set up shop in the Sault's downtown.
As Sault Business Matters was first to report, Forty-Five Social opened its doors on September 27 in a totally refurbished main floor space at 117 Spring Street, between Queen and Albert.
Forty-Five Social is now part of a more active Spring Street allying Queen and Albert that also includes mainstay Gliss Restaurant and the newly opened Black Swan tattoo parlour.
The new Forty-Five Social business, which is owned and operated by Robby and Tara Calvano and Mike and Sue Flammia, shows a clear investment in the downtown by the two couples, who purchased the heritage building at 117 Spring Street about a year ago.
There are other signs of downtown renewal and investment in addition to Forty-Five Social.
Right beside the very popular Arturo Ristorante on Queen, just before Spring, is the expanded Q Cafe, which just moved to a much bigger space from its previous location across the street. And right across the street from both Arturo's and Q Cafe is Stephanie's Joy, a small, delightful new shop that sells antique furniture and other vintage items.
Meanwhile, there is notable growth in the form of an extended indoor/outdoor seating area at Mane Street Cafe, which has become a very popular spot over the past few years. Mane Street Cafe is located just down Queen from another relatively new business, the cozy, comfortable Broers Jansen wine bar.
To be sure, all is not entirely positive in the downtown area as venerable Muio's Restaurant is up for sale and the Royal Bank recently vacated a building on the corner of Queen and Brock that it had occupied for more than 50 years.
Still, the signs of new and expanded local businesses in the Sault's downtown cannot be overlooked as positive happenings — and hopefully, future growth.