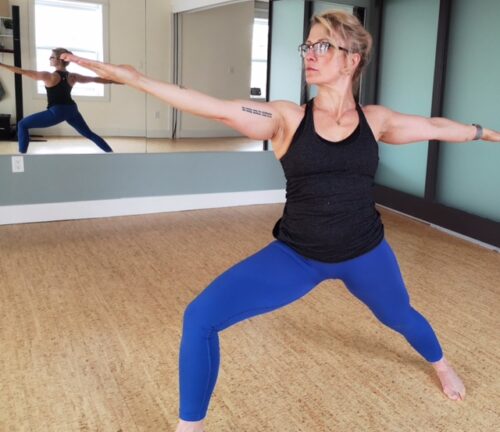 By
Angela Romano
November 29, 2021
Tweet
One thing I noticed immediately when I decided to try out some of Holly Lasante's virtual strength training sessions as inspiration for this story is how supportive and encouraging she is even through what can be an impersonal mode of training being online.
It felt like she is right there with you encouraging you, giving options for all fitness levels which makes you want to keep going and give your all safely of course, even if she is not in the same room with you. Her knowledge and thoughtful session planning is evident and I noticed right away what a great full body workout I was getting. How is this for dedication to my story writing? I suggested I try a session out and chose the 6:30 a.m. option! I liked it so much, that I have signed up for more sessions.
The convenience of doing it in the comfort of my home before work coupled with Holly's positive energy, well planned sessions and that feeling of accomplishment knowing that I am at least getting 45 minutes of quality fitness in twice a week made it an easy decision.
I had a chance to catch up with Holly recently and learned a bit more about this energetic fitness and nutrition dynamo who also plays the role of wife and mom of three so well. When asked why she has been drawn to the fitness industry so much she explained that even as a child, her mom joked that she could never sit still for long. As she got older she began to focus more on health and wellness largely because of the positive impact it had on people's lives. What inspires her when working with clients is that by helping them set a goal, no matter what it is and then witnessing them achieve it, they begin to see that you can essentially do ANYTHING. She loves to show people she works with what their bodies can do and it is so empowering for them and for her. As Holly says, this sense of strength carries itself into every facet of your life.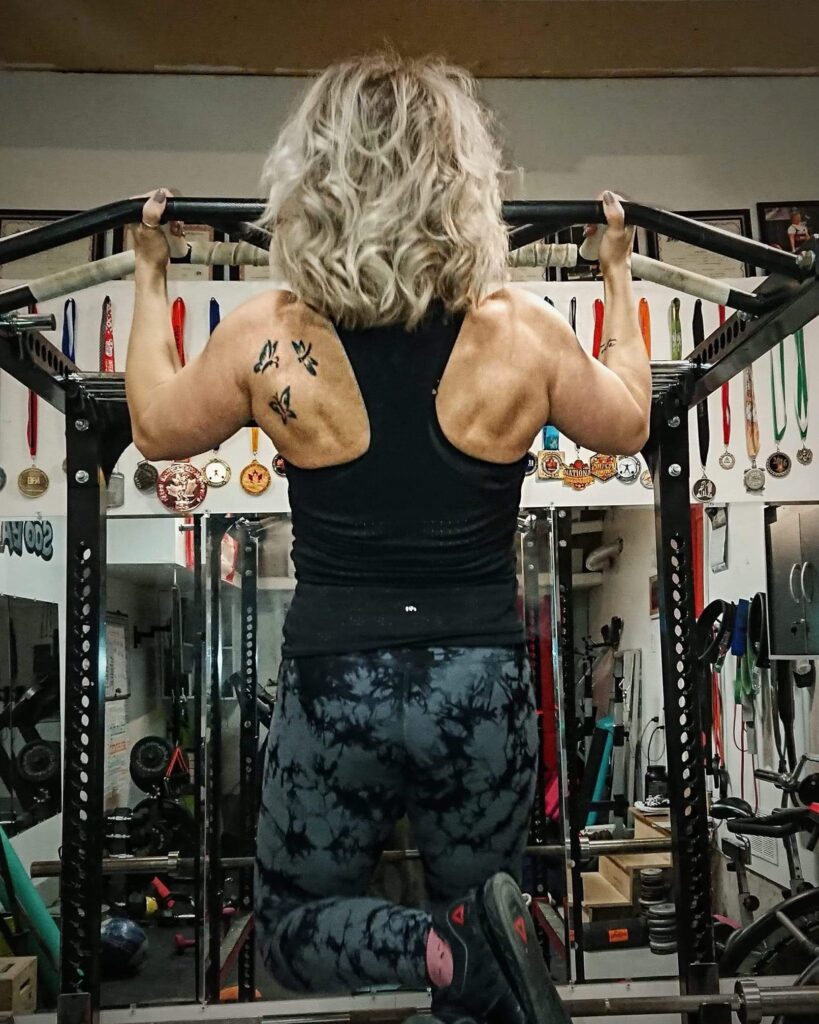 In addition to being so positive and motivating Holly is certainly well qualified to be your coach and trainer! She is certified as a personal trainer through CanFitPro. She is also certified through the International Sports Sciences Association (ISSA) as a Fitness Nutritionist, a Strength and Conditioning Specialist, a Corrective Exercise Specialist, and a Bodybuilding Specialist. She has also completed the Precision Nutrition Level 1 Certification.
Many of our readers may also be aware of Holly's huge accomplishments in body building and power lifting. She has been power-lifting for about six years. She competed for Team Canada in Belarus, Calgary and Sweden. Some of her astonishing accomplishments include winning gold at Canadian National Championships twice and taking silver once. She holds the current records in Squat (135kg), dead-lift (165kg), and overall total (375kg). Her next meet will be at Canadian National Championships in St. John's, Newfoundland in March 2022. Now don't you want someone who clearly is determined and dedicated in YOUR corner?
Lasante Fitness offers a number of great affordable options for you if you are ready to make health and fitness a priority. Services include virtual strength training sessions for men and women that focus on increasing strength, functionality, balance and endurance in the privacy of your own home. In these sessions, you will use body weight and hand weights to hit muscles safely because she helps you to build a strong foundation first. She also offers nutritional support working with clients to identify based on their personal goals, how much protein, carbs and fats their bodies need. As she explains, we need to fuel our bodies properly in order to achieve our goals.
Holly points out that way too often people are trying to lose weight or gain muscle, yet they don't really know how to eat to meet these goals. People rely on the internet to tell them what to eat, but the information available can be confusing and in many cases, dangerous! She can help navigate what is best for you and using her education and support, she can help you develop a much healthier relationship with food and achieve your goals at the same time. She will teach you about macros and how by eating the right amounts of proteins, carbs and fats to fuel your body appropriately, you are more likely to have long term results. Generally, a three month commitment is needed for her nutrition support because it takes about that long to get people to implement the things they learn and see results.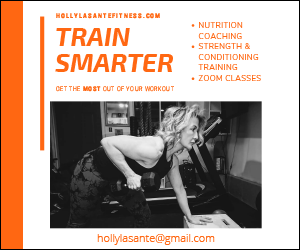 Finally, Holly also offers personal training in the privacy of her home gym. She uses a variety of methods, from powerlifting to strength training to pilates, she works with people to help them achieve goals that many never thought possible! She has people of all ages lifting weights safely, feeling confident and feeling strong. She exclaims, it is honestly so amazing to teach people how to move their bodies in ways that make them stronger and healthier! She loves to motivate people and help them reach their goals so much that she actually left the traditional work environment to focus on building her personal training career in 2020.
As she explains she had the opportunity to do something that she was passionate about, something that she knew would have a positive impact on people's lives. She recounts how she feels so blessed by having amazing clientele that make her appreciate what she does on a regular basis.
Is family fitness a family affair? She says she has three pretty amazing kids – two boys and a girl. While she does exercise a lot with her daughter, her husband and boys are not quite as "focused" on traditional exercise, they prefer four-wheeling or fishing but they do all work to have a very healthy lifestyle.
Following her passion is what motivated Holly and she would love to motivate you! For more information on her services including pricing details or to get a taste of her workouts, visit her website at www.hollylasantefitness.com