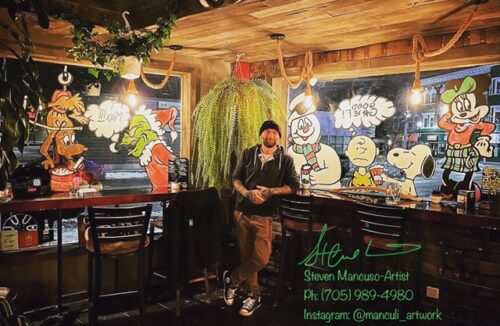 By
Angela Romano
January 17, 2022
Tweet
Sault Business Matters was very happy when approached by local artist Steve Mancuso regarding promoting his growing art business venture, Manculi Artwork. If you are curious about the name "Manculi" like I was, here is the answer!
Steve explained that Manculi was a nickname given to his older brothers years ago, and he then he was nicknamed Lil' Manculi, a play on the Mancuso last name. The name stuck from then on in so Steve decided to use it for his art inspired business venture ManculiArt.
I had a chance to connect with Steve recently and learned a lot! He has been drawing ever since he can remember, and so you can say that he has always been artistic. However, as he tells it, he didn't move in to the "artist" realm until his teen years. As a child, he remembered spending a lot of time drawingand painting. He would spend hours trying to recreate his favourite cartoon characters, creating his own characters, and even trying to draw portraits at a young age.
You likely have noticed some of Steve's fun eye-catching painted windows around the city such as the one at the Whisky Barrel during the recent holiday season. We asked Steve what inspired him to start offering this service. He tells us that he started to do this for a few reasons.
First, he wanted to fill up some free time while his children were with their mother and second, so he could provide this service to those who loved the idea, but couldn't do it themselves. Finally, it was a way to get the Christmas Spirit out there during such strange times. He has been thrilled with the response as has the community. He wasn't expecting the warm reception for his work and is very happy to be bringing smiles to people's faces when they see his work.
Though he doesn't remember the first window he ever did, Steve does recount that he used to do them at home as a way for his own kids to start getting into the spirit and to make things fun. He also does creative windows for other popular days like Halloween which kids and adults alike love!
He really loves working with oil paints and has painted all of the art that is hung in his house. Steve likes to complete paintings for each room which are mainly abstract so abstract art would definitely be his favourite. Second to that, would be black and white portraits and tells us that he loves the challenge of completing a portrait.
Steve does have another job with Nogdawindamin Family & Community Services working as their Facility Supervisor. He likes it there but he welcomes this other line of work which is definitely his passion. In fact, he says that he doesn't ever see ever stopping because it keeps him grounded.
The response from the community has been incredible and the support has been amazing. The work just continues flowing in; and as a result Manculi Art was born. He couldn't be more appreciative!!
Steve offers a wide range of artistic services: portraits, pet portraits, oil paintings, window paintings, murals, and the occasional chainsaw carvings. If businesses or residents have a project in mind, typically, a couple weeks notice should suffice. It gives him time to review the project and budgets; then he can move on to providing a concept/design sketch. At that point, he and the client can then schedule for the project accordingly.
Holiday and Christmas windows have wrapped up but next up Steve has kindly decided to partner with the Bon Soo Winter Carnival and for every Bon Soo themed window he is hired for, a portion of his proceeds will be donated to the Carnival for their efforts in our community especially welcome during these challenging times. He has already filled up spots for this first round of Bon Soo windows but keep an eye on his Instagram page at manculi_artwork for updates on future opportunities to come on board.
Steve is proof that you can follow your passion and even make some money while doing so. You are never too old to try your hand at art and lucky for us we have the Art Gallery of Algoma, one of our other advertisers that often offers workshops and classes if interested in getting started.
Have an idea for a project for Steve? The best way to reach him is via his Instagram page at manculi_artwork or by phone at 705-989-4980.