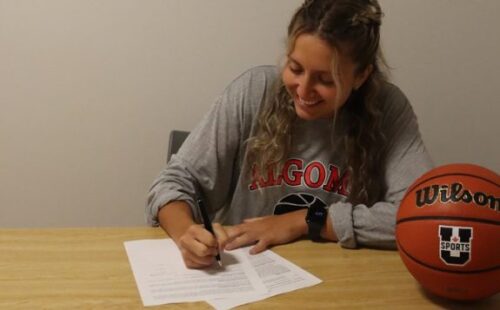 By
Randy Russon
July 28, 2022
Tweet
Karissa Kajorinne is an example of how Algoma University doesn't just send its many graduates out into the working world with jobs that were landed via various degrees of higher learning.
Kajorinne, a former star basketball player with the Lady Thunderbirds of Algoma U, has signed a contract to play professionally in Portugal in the Liga Betclic Feminina effective the upcoming 2022-2023 season.
Kajorinne's varsity basketball career began at AU during the 2012-2013 season and continued for four full years. While starring for the women's hoops team at Algoma, Kajorinne graduated with a Bachelor of Arts in Sociology and a certificate in Human Resources. She then moved on to play her final fifth year of eligibility at Lakehead University in Thunder Bay while completing her Bachelor of Education degree.
Her Algoma University basketball career proved to be very successful, winning Athlete of the Year in both 2016 and 2017. In 2017, Kajorinne finished the season with an amazing 542 points. Showing herself to be a dedicated player on the court, she also proved to be a leader. Not only was she the captain of the Lady Thunderbirds in her final year, but she assisted with the Jr. Thunderbirds and Basketball Skills Summer Camp programs. Kajorinne then returned to Algoma after graduating from Lakehead and helped out her former head coach Ryan Petrie as an assistant.
Now, Vetrie is thrilled to see Kajorinne poised to begin her pro playing career over in Portugal.
"Karissa was an amazing addition to our coaching staff over the last couple of years and has done a really great job of being a positive role model for our younger players, emulating what it takes to play at a high level," Vetrie began. "Now, as she makes her way overseas I believe she will continue to do so. It shows student-athletes that there are opportunities to play basketball after university. I am not surprised that Karissa got signed, as she still has that competitive drive to play the game. We are very happy that she is able to take this opportunity."
Recently, Kajorinne participated in the Maritime Women's Basketball Association. Kajorinne proved to be successful once again, achieving a game point average of 24.6 while leading the MWBA with 246 points.
Now, in heading to Portugal, Kajorinne will become the second female Algoma U grad to play in a professional league, following former Thunderbirds stalwart Marlee Ball.
"Having an opportunity to continue playing is something I have always dreamed of doing so I am very excited that I am able to pursue something that I am so passionate about," relayed Kajorinne. "I do want to thank all of my teammates and coaches for the support over the years and for continuing to push me in my athletic conquests. I will miss my Algoma Thunderbird family as I have really enjoyed coaching at both the university and club level over the years but I hope to do them proud as I pursue my career overseas."
Liga Betclic Feminina begins regular season play in October and Kajorinne will head to Portugal next month to begin training ahead of the '22-23 campaign.