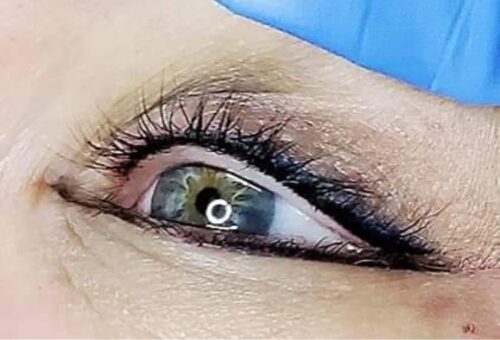 By
Angela Romano
November 11, 2022
Tweet
In 2018, Katie Mohamed opened her part-time business, Dermal Enhancements, initially offering permanent eyebrows only. She went on to earn 24 additional certificates allowing for many more permanent makeup services and esthetics and skin care.
Katie became an esthetician in 1984 but eventually decided on a career as an educator. After over 28 years in the teaching profession, things have come full circle and Katie is finally utilizing her esthetics training. Dermal Enhancements now is a full service and accessible permanent makeup and paramedical tattoo studio with many esthetic services including microneedling, chemical peels, and lash lifts. She is attuned to what is in demand and adjusts services accordingly.
Another thing that Katie is very passionate about is skincare products where she is able to use her credentials and knowledge from the School of Natural Skin Care to develop her own line of skin, body and hair products that are made primarily from botanicals. She is quite proud of the fact that her products are developed in house with a focus on creating products that are designed to supply what our skin needs in our four season climate. Permanent makeup and beautiful skin do not have to be a luxury anymore. Providing solutions and building confidence are things that Dermal Enhancements strives to offer and she will work with clients to ensure that fees are accessible and most importantly, she is always transparent explaining procedures thoroughly before clients proceed.
Katie's clients travel from all over northern Ontario, Michigan and as far south as Barrie. She has become known for creating natural looking eyebrows and a wide range of eyeliner looks. She is a firm believer in artists needing to know a wide range of techniques in order to be able to respond to individual skin types and conditions for the best possible healed outcome. Of her over 20 certifications, four are in the proprietary manual technique known as Softap™ making Katie one of only two artists in northern Ontario who can apply the technique.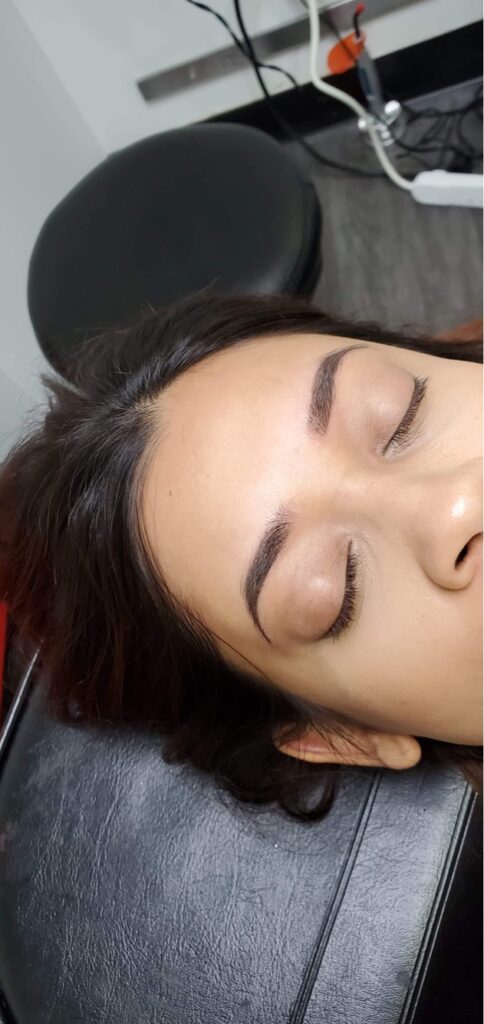 The wide range of services offered include permanent makeup, medical micropigmentation as mentioned, skin rejuvenation treatments, esthetic beauty treatments, permanent makeup correction, and lash enhancements. Katie can't pick a favourite service and tells us that she loves doing all services. Lips are difficult to tattoo because of the nature of the tissue so they typically take longer. She does like the artistry of doing eyeliner because there are many different options ranging from basic, to classic, to dramatic with some eyeshadow and even colour…many choices. Locally, the post popular services are eyebrow tattoo and microneedling however, she noted after Covid she did more eyeliner than anything which she found very interesting.
We invite you to visit her excellent website at https://www.dermalenhancements.com/ where you will find details on all of the services, skin care products available for purchase, booking details and answers to many of the most popular questions asked.
If looking for a gift idea, Dermal Enhancements offers electronic and paper gift certificates for full services or an amount toward a service of choice. As mentioned, she sells her own formulated and compounded skin care products, essential oil blends and other items for hair, essential oil enjoyment, and skin rejuvenation for home. She brings in whatever she thinks will support clients' needs for services she offers.
If hesitant to book, keep in mind that Katie has twenty-four certifications in various treatments and techniques. Katie had this to say, "The skin is a marvellous, resilient organ which responds incredibly well to manipulation whether by way of skin rejuvenation or micropigmentation when a practitioner understands it well, but can be equally challenging when tattooing the face, or when working on compromised skin such as an areola tattoo on a cancer patient who has undergone radiation and/or reconstruction. An artist needs to know several techniques in order to be able to apply them for specific skin types, tones and conditions. Research is what I do in my spare time. The permanent makeup and skin care industry puts out new ideas and evolutions so rapidly, a professional cannot afford to get behind. Skin health and on-point results are my number one priority."
Services are provided on a part time basis with Saturday and after work time slots available to meet client needs. Dermal Enhancements is "by appointment" only.
Dermal Enhancements is located at 875 Queen Street East, Suite 7 and can be reached by e-mail at dermalenhancements@gmail.com or by phone at 705-971-8307.