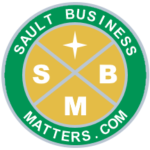 By
Sault Business Matters Staff
September 27, 2021
Tweet
There is a gem of a new local business that has just opened on Spring Street in the Sault's downtown.
Forty-Five Social opened its doors today. It will be open Monday through Saturday from 9 a.m. to 7 p.m.
Forty-Five Social is operating out of a totally refurbished main floor in a downtown heritage building at 117 Spring Street, between Queen and Albert.
Locally owned and operated by the Calvano and Flammia families, Forty-Five Social feature men's clothing, a barber shop, a bar and cafe, and Lucy Ro Clean Beauty.