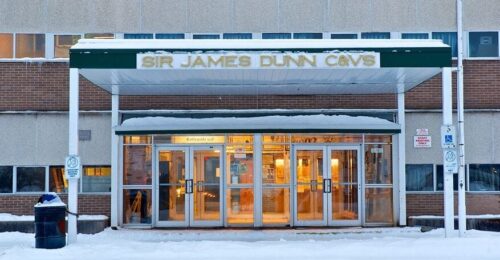 By
Randy Russon
January 13, 2022
Tweet
Teaching is like any profession. There are good ones, pretty good ones, and bad ones. And it is the good ones who provide positive direction that lead to good instruction, good times — and even better memories.
Through grade school, then into high school and at community college and university, I had my share of good teachers. Good teachers who were also good sports.
I define a good teacher as one who wasn't full of his or her self and didn't think he or she was this major authority figure who possessed almighty power to pass or fail, even if they did.
Beginning in elementary school at Holy Angels in the Sault's downtown, I had a kindly soul by the name of Mrs. Anna Roy as my Grade 2 teacher. I remember her as an angel of sorts in a rough and tumble school that had its share of devils, some of whom were as old as 16.
Another favourite elementary school teacher was Mr. Larry McNally. I had the good fortune of having Mr. McNally as a teacher at both Holy Angels and later, at St. Mark, when my family moved to the east end of the Sault. Mr. McNally was also my softball coach at both schools and a kind, genuine human being who clearly cared about his students.
My other favourite elementary school teacher was Mr. Frank Orlando, who taught me in Grade 8 at St. Mark. He was also the school's principal and while he could be grouchy and gruff at times, he also showed an interest in the well being of his students. Mr. Orlando — we called him "Big Frank" behind his back — was also a huge hockey fan who cheered for the New York Rangers.
High school certainly was different than elementary school. I began my career at Sir James Dunn with good intentions of being studious to the point of being an honour student. But, um, those plans never quite fell into place.
While I would advance to do well in subjects such as English, History, Geography, Economics, Marketing, Business Law and Business Management, it was Physics, Chemistry, Biology and Mathematics that held me back and led to a lengthy 6.5 year stay at venerable Sir James Dunn.
Actually, I might have made it out of the Dunn sooner if not for the fact that the drinking age was lowered from 21 to 18 around the same time that I turned 18. So, instead of a full day of classes at the Dunn, it was often a morning of school followed by an afternoon of beer sampling at the Caswell, the Vic or the men's bar at the Windsor Hotel, where I also worked.
Still, when I was at school, I did actually listen to, and like, quite a few teachers.
That list would include Mr. Richard Annett, Mr. Jack Casey, Mr. Tony Fazi, Mr. Roger Kinghorn, Mr. John Stortini and Mr. Ralph Thomas.
I also liked Mr. Carl Krivan so much that I took Machine Shop just so I could be in his class. I wasn't very good at it but Mr. Krivan actually made my buddy Brian Holmberg and me the shop foremen. I guess he figured if he gave us some responsibility we would behave ourselves in his class and, as it turned out, he was right.
Another cool teacher was Mr. Bruce Morrison, who was also the librarian. I liked him because he never bothered me me when I would (sometimes) return from a liquid lunch at the Caswell and have a nap in one of the library cubicles.
And as guidance teachers, I had two good ones who truly cared in Mrs. Joan Curran and Mr. Richard Joy.
All of the above mentioned high school teachers were what I would call "good sports." You could actually have a conversation with them at school or away from school. (Yes, a few of them were known to frequent the Caswell or the Vic on occasion.)
Mr. Annett was a favourite because he was never bossy and didn't act the part of a "know it all" teacher even though when it came to Geography, he did know it all. What made him cool was his dry, at times sarcastic sense of humour. Mostly though, he was a teacher that we could all relate to, an easy going dude who kind of marched to the beat of his own drum.
At Sault College and Algoma University, I had a number of good instructors and professors, guys like Neil Carter, Hassan Gardezi, Jim Gibson, Don Jackson, Akram Rajput and Terry Ross. Again, I was no scholar, but they were teachers who taught life skills as much as they did the subjects that they specialized in.
Not all teachers are good. But as someone who was a very average student, I had more than my share of good teachers.
And while there were teachers then — as I am sure there are now — who thought they were so damn special and smarter than everyone else just because of their profession, all of the above mentioned educators are ones that I hold very good and very respectful memories and thoughts of.