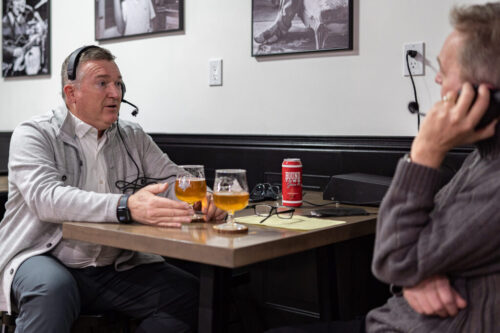 By
Randy Russon
March 7, 2022
Tweet
Soo Greyhounds president and governor Tim Lukenda talked about his favourite Ontario Hockey League team. And then he yakked about his new craft beer of choice.
The affable Lukenda was a featured guest on a recent edition of the Hockey North Show that I act as host of on Tuesdays at 5 p.m. on local radio station Eagle 95.1. (see above photo by Bob Davies.)
Lukenda started by talking about the rich history of the Greyhounds that began in 1972 and is now into a 50th anniversary as an OHL franchise. His family has had majority ownership of the franchise for about 20 years now but Lukenda recalls watching the Greyhounds play at the old Memorial Gardens when he was in elementary school and his future brother-in-law, Dave Mancuso, was a defenseman with the OHL team in the mid 1970s.
He talked. And talked. And talked some more.
Lukenda's love and passion for the Greyhounds is unmistakeable in the way he gushes about the team and its reputation as a model OHL franchise of sustained success and player development. He is a big fan of the Greyhound hockey department that is led by long-time general manager Kyle Raftis and seasoned head coach John Dean. And Lukenda is also a big fan of Greyhound fans.
"I may be a bit biased but I believe we have the best fans in the Ontario Hockey League," Lukenda said emphatically. "We have such a loyal fan base. We have fans that have been supporting the team for many, many years … through the good times and the bad times. You don't get to celebrate 50 years in the OHL without the support of great fans and great advertisers."
Lukenda said he takes pride in the "great reputation" that the Greyhounds have as an OHL franchise and noted that with Raftis as GM and Dean as head coach, "we have excellent leadership." Noting that the Greyhounds are again a top contender in the OHL's Western Conference, Lukenda praised the work being done by the entire hockey department.
"To be able to compete with a team like the London Knights every year says a lot about our organization," said Lukenda.
A graduate of prestigious Notre Dame University in South Bend, Indiana — he was also a goalie for the famed Fighting Irish starting in 1984 — Lukenda is a savvy businessman with local ownership interests that include Northern Superior Brewing.
Two years ago, Lukenda teamed up with Jeff Dicorpo — one of the original founders of Northern Superior Brewing — in a partnership with the local craft brewery. Recent expansion to the brewery include the Tap Room, which is open six days a week and serves thirsty patrons in a quaint, old style, yet modern facility on lower Pim Street.
Among the many popular beers that both the Tap Rom and the Northern Superior Brewing retail store sell includes the new "Hound Town Golden Ale" which is a salute to the Greyhounds 50th anniversary season.
"It just made sense," Lukenda said of the introduction of Hound Town Golden Ale. "It is the Greyhounds 50th anniversary as members of the OHL and we (at Northern Superior Brewing) wanted to have a part in it."
Lukenda noted that Hound Town Golden Ale has become a big seller along with Northern Superior Brewing's other more established brands.
As the Greyhounds continue to be an ongoing OHL success story, Lukenda said Northern Superior Brewing has plans to further add to its popular Tap Room with more licensed outdoor features.
Hockey and beer … they just go together, especially in Hound town.