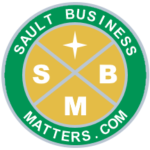 By
Sault Business Matters Staff
November 15, 2022
Tweet
(EDITOR'S NOTE: Sault Business Matters has received the fellowing message from recently elected mayor Matthew Shoemaker.)
To our community:
CORPORATION OF THE CITY OF SAULT STE. MARIE
A quick study of Sault Ste. Marie's history reveals this area has been a gathering place for hundreds, if not thousands, of years. Historically, it has been a crossroads where people from many different backgrounds have travelled to and met at.
Not surprisingly, my story is similar to that of many people in Sault Ste. Marie.
My mother, Franca, immigrated to Canada from Italy in the late 1960s. My dad, Greg, grew up in southern Ontario and came to Sault Ste. Marie to study at Sault College. He worked at St. Mary's Paper and Algoma Steel over a 40 year career. Despite being from different continents, and different cultures, they were both hard workers in search of opportunities to better themselves and establish roots.
My parents raised my siblings, Steven and Nadia, and I, in our community's west end. After completing my undergraduate at Algoma University, I went to Ottawa to learn the law, but came back from Ottawa having learned that Sault Ste. Marie was where I belonged.
During the decade I've been home, I began working at Wishart Law Firm, where I work to this day, and successfully ran for City Council in Ward 3. Most importantly, during the last decade I've been home, I married my beautiful wife, Jenna, and we had two boys who we cherish, Hudson and Maxwell. For me there is no greater motivator in wanting to build the city I know we can be than Hudson and Max. I hope that, when they tell their story in the future, they can look upon these years and be proud of the work that City Council did to improve our city for their future, and the future of all of our residents.
With the support of City Council and the community, I want to build the city I know we can be.
I ran for Mayor because, after eight successful years as a Councillor, I still had more to give to my community. I am so grateful to the community for having entrusted me with its support. The next four years will be a challenge, but in tackling the challenges we face, City Council can capitalize on the opportunities they present, in the same way that in years past, people came to Sault Ste. Marie to take advantage of the opportunities that were here.
The challenges are known to us, but the solutions will be for this council to work through.
We are facing an opioid epidemic that has taken the lives of too many of our residents. While healthcare operations cannot be funded by the city, we can, and in my opinion, must, provide funding for the capital needs of a supervised consumption site. Before putting municipal dollars into any supervised consumption site, we need a commitment from MPP Romano and MP Sheehan that they'll get our city the approvals we need for our residents to get the services that are available to residents elsewhere.
MPP Romano and MP Sheehan know that they will have an unrelenting advocate for Sault Ste. Marie's needs in the Mayor's chair.
Our community's needs are incredibly intertwined. We need jobs for people to fill, but workers need houses, their roads need to be plowed in the winter, their potholes filled in spring, their kids need parks, museums, rinks and cultural attractions and they need police to keep the community safe. On all of those fronts, there is a role for the municipality, and an opportunity for this City Council to better our community.
On policing, our station is pushing 60 years old and doesn't meet today's accessibility standards. It's also in a location that provides no ancillary benefits to the community. If we are going to renew our police services building, it should be, or at least some of it should be, in the downtown area where so much positive value can be realized by having our officers integrated in the heart of our community.
On parks and recreation, we should explore how we get more people using our existing assets by adding additional services to places like Bellevue Park. A beach area for sport and relaxation could be a great draw in the heart of our city for people who can't make it out to Pointe Des Chenes for the day.
We have services that are beloved in our community, like the Hub Trail, which is now pushing 20 years since it was first developed. It has been expanded since that time, and it's great for residents who live in the P Patch, or Fort Creek, or along Queen Street and Shannon Road, but not so great if you are in Buckley and Bayview. Our west end is underserviced by the Hub Trail and expanding it westward is a goal I share with many City Councillors.
Finally, we will all be challenged by climate change and environmental concerns. Again, these challenges present an opportunity to be seized. As the Alternative Energy Capital of North America, we can work to reduce the City's carbon footprint, while at the same time reducing our fuel consumption and our vehicle maintenance costs. We can and should continue to use our PUC to partner with industry to help not only the PUC's bottom line, but to also help reduce the carbon emissions in our community at large.
I look forward to supporting the ideas of City Councillors, and moving forward an agenda that will benefit our city and its residents both in the short term and the long term. My public commitments have been clear: we need growth, and we need development, but we also need to achieve this in a managed and prudent way. I will work with City Council to give residents the community they want and deserve, but in a responsible manner that will show respect and awareness for cost of living concerns. With the capable support and guidance of our dedicated City staff, I know there is much that will be able to accomplish.
Our city was built by people who came to Sault Ste. Marie because they saw opportunity here. For the next four years, this Council will be looked be looked upon to provide, or in some cases create, that opportunity for the next generation of immigrants, migrants and residents. Your Council will get to work on day one to create that opportunity.
Sincerely,
Matthew Shoemaker, Mayor
mayor.shoemaker@cityssm.on.ca