By
Angela Romano
March 27, 2021
Tweet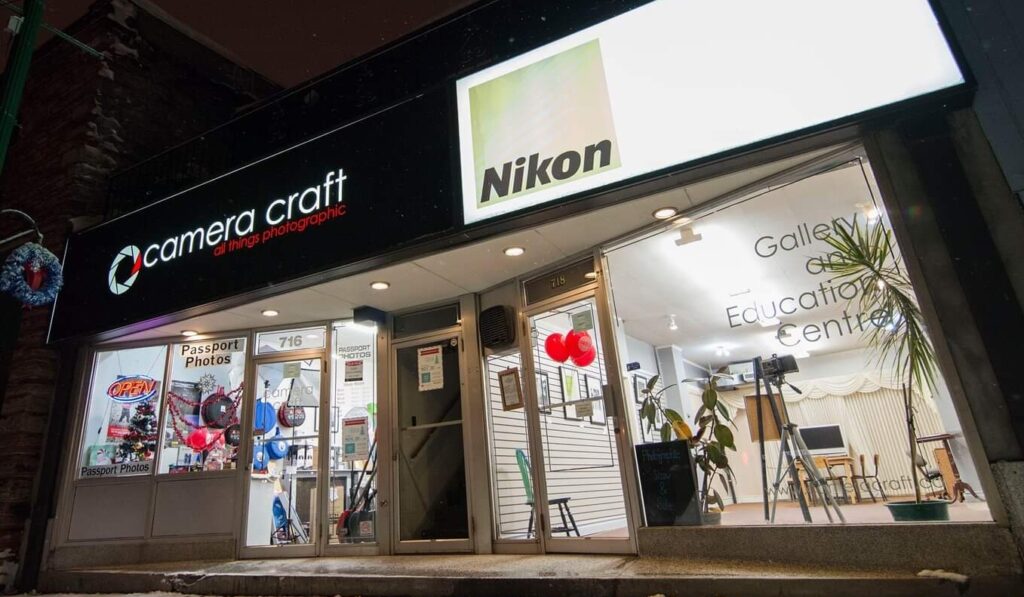 Camera Craft has been a fixture in downtown Sault Ste. Marie for over six decades, which is an incredible achievement in the small business world. Longevity in operating a highly specialized service is certainly something to be proud of and a testament to the stellar customer service experience one can expect from the team at Camera Craft. Camera Craft has always been a family operated business from its previous owners and to the current ownership.
On this particular day, I was welcomed warmly by the incredibly personable young professional you will often find manning the storefront, who goes by the name of Dodds.
Dodds, a graduate of Sault College's videography and photography program and a self-professed movie buff, tells Sault Business Matters that an interest in cameras and photography was developed at the young age of around 13 or 14 years old and it has definitely been an ongoing love affair with the beautiful craft. 
You only have to spend a few minutes with Dodds to quickly know that they are a wealth of knowledge but more than that they excels at providing information in layman's terms so customers don't feel they are dazed and confused trying to comprehend what can be pretty technical terminology. While I was at the store, I was able to witness some interactions with customers by Dodds and it is easy to see why there is so much customer loyalty at Camera Craft with every single interaction being a shining example of stellar customer service.
Now it may be true that people can purchase cameras for perhaps a few bucks cheaper at the big department stores or there is that misconception but what you won't get is the personalized service that Camera Craft offers. Staff will assemble the camera, set it up for you, give you a free lesson on how to use it, assist with filling out the warranty, teach you the basics and they are happy to answer any questions you have even down the road.
In fact, Dodds recounts how they often have repeat visits from customers who need advice afterwards on how to use the camera to do different things and they welcome the visits. They often lead to long chats sharing tips with both amateur and professional photographers. This type of service is unprecedented and is what sets Camera Craft apart from the big box stores where let's be honest, staff are often no where nearly as proficient in the products they sell and they certainly won't help you set it up or educate you on your camera, that's for sure.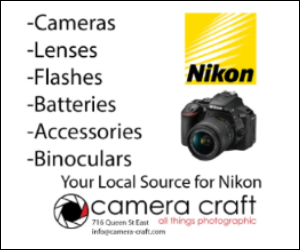 Recently a customer stopped by with a receipt from a purchase they made at Camera Craft 50 years ago, talk about customer loyalty!
Camera Craft prides itself on embracing technology and changing with the times. As far as cameras, they carry Nikon, Canon, Fuji, Vanguard, Tamron, Sigma, Manfrotto and many more well known brands. They also sell binoculars and all the accessories you might need such as lighting and a wide variety of bags to safeguard and transport your investment! Our readers might be surprised to learn that they also carry flashlights if you are looking for a good quality one.
Dodds, I learned is partial to black and white photography so if you need advice regarding that, hit them up anytime and they would be happy to set up a lesson for you. They also have what you need to set up your own dark room, the paper, the chemicals etc. One thing that I was surprised to learn is that setting up a dark room for black and white prints is actually super easy and very doable at home! Perhaps a new hobby to explore for you all and Dodds and the Camera Craft team are happy to help! The chemicals used are biodegradable and won't wreck your pipes and once you learn the basics, it will become second nature.
There is something very organic and beautiful about black and white photos and as Dodds explained, it is a very niche market similar to the resurgence of vinyl records. Other services provided by Camera Craft are custom photo restoration and scanning of negatives and slides done on site as well as passport and other ID photos (PAL, Visa, International Passport, etc.) Another young staffer by the name of Margot specializes in photo restorations so if you have a nostalgic photo that has seen better days, bring it in!
In addition, they are the only place in town that still sends 35mm film away for processing and printing with a roll of 24 exposures coming out to approximately $40. In their lab, they can also reprint developed negatives and slides. A very handy addition to their impressive lineup of services has been the addition of Fujifilm GetPix which quickly and easily allows you to print 4×6 photos directly from your smartphone. I recently tested this option and wow, I was super impressed with how quick and easy it is to use and also the quality of the photo paper and images themselves! Three simple steps and you are done!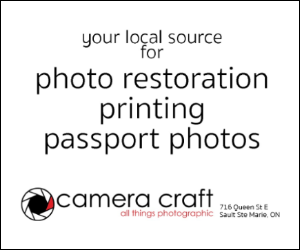 Camera Craft is also home to the region's only photography dedicated gallery which is something that was lacking in Sault Ste. Marie with other venues not really offering photographers the opportunity to showcase their work. Every year, Camera Craft hosts a 'Friends of Camera Craft' exhibition and sale which is a great way for local photography enthusiasts to showcase their images to the public. The gallery is also used as a gathering point for photographers to socialize, share ideas and information. They have hosted around 40 exhibitions to date and look forward to hosting more when circumstances permit it.
Personally, what I have also admired about Camera Craft is its commitment to downtown and support of downtown community events. They are always so supportive of community causes. For example, during the popular past Moonlight Magic events, they have brought in "Wonder Woman" and for a small fee, kids could have a Polaroid photo taken with her and proceeds were donated to ARCH. In the summer months, staff put out some inviting seating and some pretty flowers for passers by to enjoy but also so that they can take a break outside themselves and engage with people walking by because as they mention, it's all about being a part of your community.
Camera Craft is open Tuesday-Friday from 10 a.m. -3 p.m., Saturday from 10-2 but on April 6, hours will change to 10-4 on Tuesdays-Fridays and Saturdays remain 10-2.
If you have questions, contact Camera Craft at 705-254-2131 or e-mail them at info@camera-craft.com.
Camera Craft…there for you every step of the way!