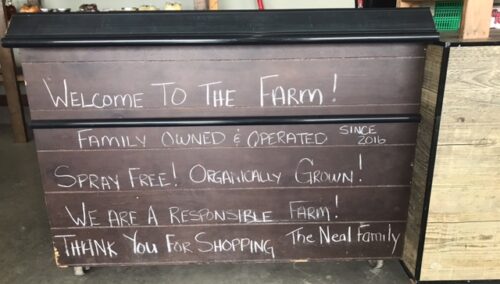 By
Angela Romano
October 27, 2021
Tweet
On a recent day off, I decided to pay an impromptu visit to Neal's Country Farm & Market and had a chance to connect with the friendly and hard-working owners Greg and Allyson Neal. I caught them by surprise but as expected, was greeted warmly by name as they stood in their mud splattered clothing and boots — true farmers!
Of course, I left with a ton of goodies including some of their signature items like pickled cherry bomb peppers, their amazing garlic powder made from garlic from their farm, beautiful golden beets, and Thornloe cheese curds to name just a few!
Greg as it turns out, I have known for quite a few years since his landscaping and snow removal company was used at my workplace and even then he was so always so nice to deal with. Allyson is equally one of the nicest people you could ever meet and it is clear the staff they have hired is also warm and friendly.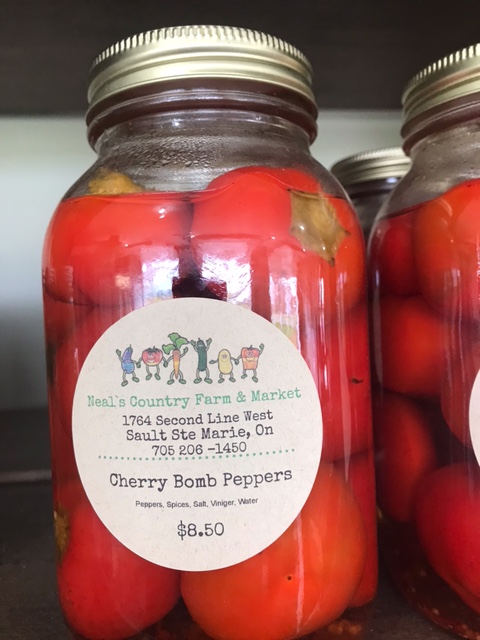 Christine was the very personable employee who helped me with my purchases and she went out of her way to provide amazing customer service, something Neal's Country Farm is known for. In what might be a surprise to some, the Neals are actually first time farmers — they basically made the somewhat scary decision to switch career paths a few short years ago. They purchased the farm in 2016 and when asked what prompted the decision to buy a farm and work as full time farmers, Allyson explained that ultimately it offered them more opportunity to spend time with their children and it has been rewarding to have them help out.
They clearly like a challenge and have been successful despite some growing pains along the way. As Allyson relayed, it is also nice to work for yourselves. Believe it or not, farms are fun even with all the hard work involved! I actually can recall their children helping out early on when they had a booth at one of our popular local farmers' market prior to opening their own store at the farm. It was and still is a family affair and both have appreciated the extra time they have been able to spend with their four children ranging in age from 11 to 24.
Allyson tells me that her favourite part of owning their own farm and country store is that it truly feels like a family. They have been able to hire a few staff who become like extended family and as she explained, "I pay Christine to be my best friend!" How nice is that?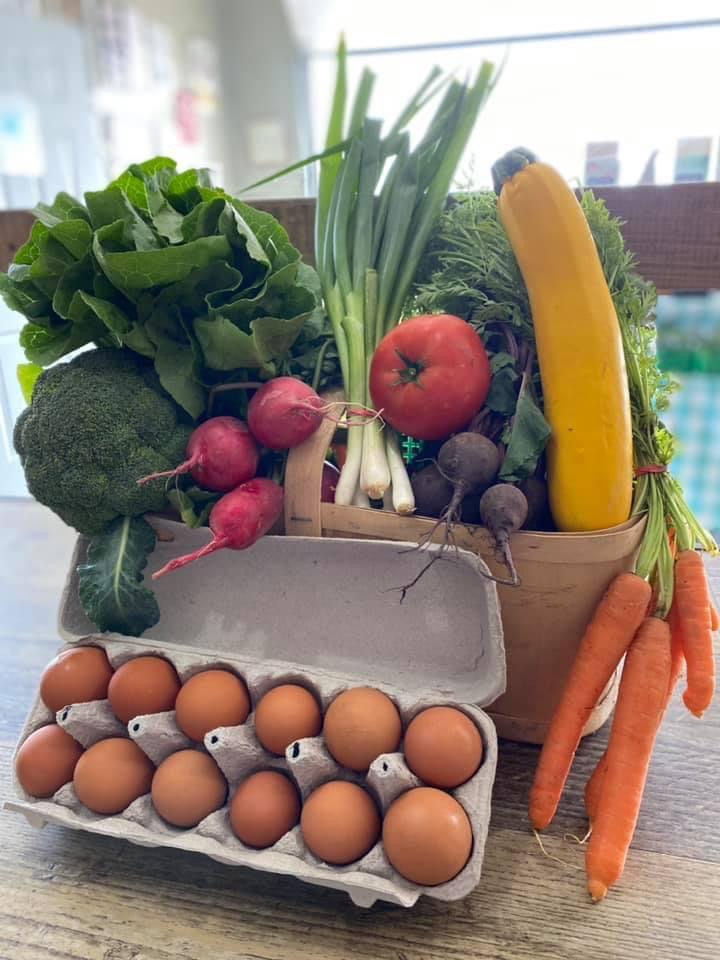 They come to know all their customers by name because due to their location being a bit remote, most people that stop in are "regulars" who plan their visits but they sure do love seeing new customers too! It is becoming very apparent that now more than ever, people want to support local businesses and for Allyson, this means a lot because she gets it. As she puts it, it is local businesses that are the ones who come through to sponsor kids' hockey teams, donate to charity events and it's all about community.
Supporting other local businesses is something they try to do as much as space allows in their current store and they are pleased to do so! Some of the businesses they carry products from are Bruni's Fine Foods, Hogan's Homestead, and Cabajan Kitchen hot sauces to name a few. They also carry the very popular Thornloe cheese products and curds which don't last long! In addition to a large selection of produce and vegetables such as beets, potatoes, garlic, cucumbers, tomatoes, peas, zucchini, carrots, pumkins, squash, and corn on their 10 acre farm, they also carry baking utilizing their farm fresh products, and their free run eggs. Their free range chickens are also sold at their store. Watch their social media posts to find out when the chickens are available.
Most of what they sell is either grown by them or other growers in the region. In the spring you can visit them for hanging flower planters that they also grow themselves. They are proud of the fact that they start all their own vegetables and produce themselves with several large greenhouses on their spacious property. One of my personal favourites is their garlic powder made with their own garlic. It is a game changer for those of you who, like me, love to cook! It is seriously way better than the stuff you get in the grocery store!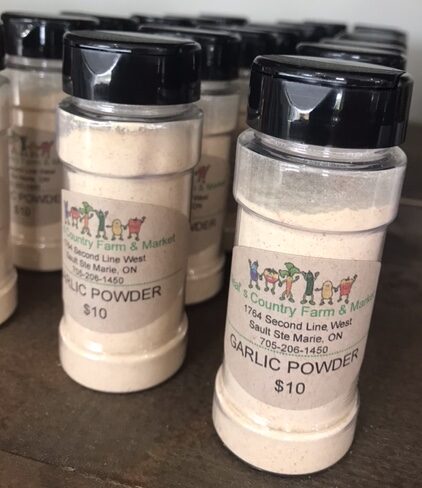 One important thing to note is that the Neals do not use any chemicals on their vegetables so you can feel confident knowing you are not being subjected to harmful chemicals when purchasing from them since it is organically grown and chemical free. CSA's (Community Shared Agriculture) shares are now offered so contact them for details or follow their social to get in on this great option when it is sign-up time for 2022.
On occasion, people can't make it to pick up their share and rather than it being sold, the Neals will often donate the items where it might be put to good use. (Soup Kitchen as an example). Allyson tells me that being a relatively new farm in the region, it was very rewarding to have been recognized with a Silver showing for Greenhouses in the 2021 Community Votes Sault Ste. Marie event.
Some things in the works are building on what they currently have to increase production, adding more insulation so they can offer more varieties of plants, and adding additional heating to extend their season.
With the holiday season comes a transformation to a Christmas tree, holiday wreaths and baking store. November is when the transformation starts to happen so be sure to follow their social or ours to find out when you should go visit!
Being full-time farmers is hard work and takes a lot of dedication and you really have to love what you are doing. After my chat with Allyson and Greg, I think they totally have what it takes and it shows. Do yourselves a favour and stop by the farm, you won't regret it!
They are open seven days a week from 10 a.m. to 5 p.m. and are located at 1764 Second Line West just past Leigh's Bay Rd and before Carpin Beach Road. If you have a specific question, give them a call at 705-206-1450.