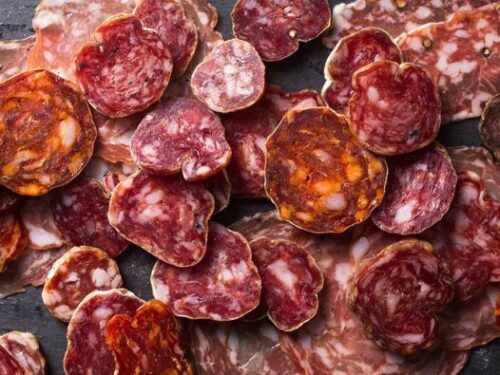 By
Angela Romano
January 10, 2022
Tweet
Being a proud Calabrese Italian, I learned the art of making sausage and salami from my parents and it is something my three sisters and I still do today. Our parents have both passed away but we proudly carry on this great tradition and based on the demand we have for our dried sausage, Mom and Dad taught us very well.
From a young age, I had a role to play whenever it was salami making season which is right now as a matter of fact.  Many families have their own secret recipe and many even have salami judging competitions with their friends! For many households in the Sault and area, salami and sausage making has been a time honoured tradition.
But not everyone has the know how to make them and that is where John Bruni and his son-in-law Jamie Elliott of City Meat Market can help!  It is no secret that people LOVE homemade salami, it is great for entertaining, snacking, charcuterie boards etc. but not everyone has the time to make it for themselves, or the skill to know how.
John, being from Calabria with over 40 years in the butcher industry as well as Jamie Elliott, also a skilled butcher, are offering a great service for locals to take advantage of.  Leave all the hard work to these experts – they will grind the meat, season it, make the salami, and have it ready for you to hang it to cure. How awesome is that?   
Pricing is $4.99 per pound plus the cost of the casings and pre-order is required.  Of course, for those of you like my sisters and I who prefer to do all the hard work yourselves, you can also simply order your meat, casings and spices from the friendly team at City Meat Market.  
Call City Meat Market at 705-256-2271 to place your order or stop by for more details on this service or just to see what other amazing products they have.  City Meat Market, a downtown gem owned by John and Rosina Bruni since 2005 is open Monday to Friday from 9:00 a.m. to 5:00 p.m. and is located at 814 Queen Street East.