By
Angela Romano
April 21, 2022
Tweet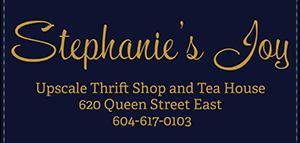 It was on July 4, 2021 that a new quaint little shop opened up on Queen Street East in the Sault's downtown — in the old Mike's Lunch location — by the name of Stephanie's Joy.  
Owner, Stephanie Harman tells Sault Business Matters that the name selection is two fold, her mother's name is Joy, but also the name was selected because it truly is her "joy" to give the community a different type of shopping experience. As she exclaimed, it's like a garage sale every day whenever you pay the store a visit.
Word got out quick that the store offered some very nice gently used clothing and odds and ends for your home, and she soon realized that she needed a bigger location. The search for a bigger location was on and she was able to find a perfect location.
On April 2, she opened in her new larger location at 620 Queen Street East in the Sault's downtown and the response from the community has truly warmed her heart. It is also worth noting that she could have located her store anywhere in the community but chose downtown for a reason. She remembers growing up that Queen Street was the place to be, from the community parades, to cruising Queen, places like Moviola Café, now occupied by Q Café, downtown has a vibe that she loves and she sees growth happening.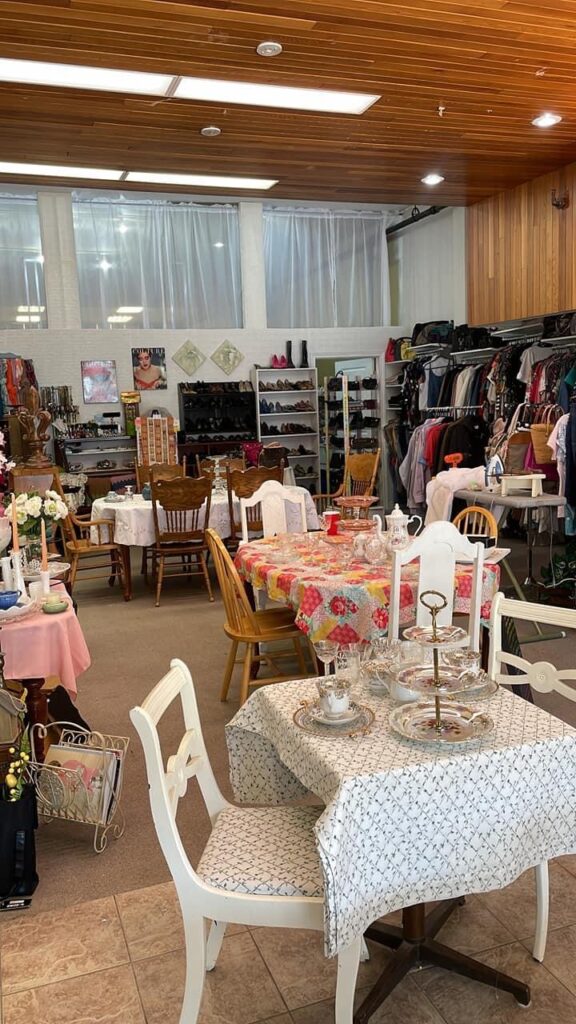 Despite looking at other locations, Stephanie was always drawn to find something on Queen and that is great for our downtown! It is her intent to create a feast for the eyes when you stop in and it only takes a visit to see that she is accomplishing that! Stephanie tells us that she has always worked in the retail industry having spent 30 years in retail with many in British Columbia. She lived in B.C for many years but in February of 2021, she moved back to Sault Ste. Marie to help care for her mother and being a go getter, five months later, she opened her own store as noted earlier.
When asked to describe what Stephanie's Joy is all about, she offered that it is an upscale thrift shop that is beautiful, offering a fun and welcoming environment. Stephanie is also talented in refurbishing/upcycling old furniture and many of the colourful pieces you see for sale are pieces she has upcycled and these sell quickly. She points out that repurposing things is good for the environment and she is proud of the fact that the clothing and accessories she sells is really just finding new homes for them since they are still beautiful and wearable and they aren't ending up in the landfill.
She sources the clothing and accessories from estate sales, thrift shops, friends and family and is quick to point out that everything is very clean, and in "like new" condition, She wants to change some people's opinion that only less affluent people shop at thrift stores. You would be surprised at some of the great finds at stores like hers.
Something unique about Stephanie's Joy is that it is also a Tea House. She serves High Tea every Sunday at three different times if demand is there for all three times and her location can also be used for private tea parties and/or other special occasions like bridal showers, baby showers, ladies nights, pretty much any occasion you can think of. These are a lot of fun and becoming very popular. A minimum of six people is required for private bookings.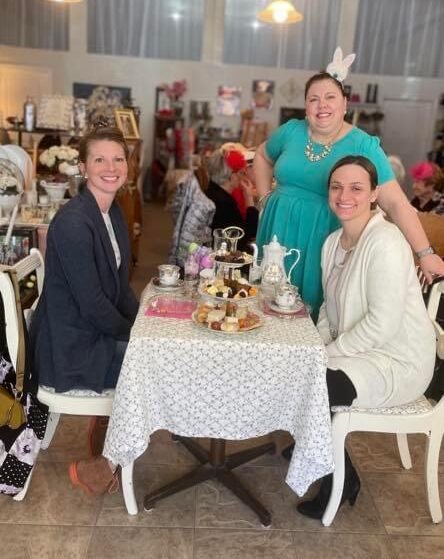 She was inspired to start these because it was something she and her mother Joy used to do regularly and her mother was the one who suggested that Stephanie offer high teas here. It is something fun and different that isn't really offered on a regular basis. Her larger location also offers the capacity to host them too! She can accommodate about 26 people at each seating and currently they are offered every Sunday at 11:00 a.m., 1:00 p.m. and 3:00 p.m. at a cost of $25 per person. An assortment of delicious pastries and finger sandwiches, tea, and coffee of course are included and anyone shopping in the store during the tea also receives a discount! Private bookings are $30 per person. Payment in advance is required by the deadlines she advertises on her Facebook page generally 7-9 days ahead of the date by e-transfer or cash in person. Anyone interested in reserving can text Stephanie at 604-617-0103 mentioning tea in the text message or you can also message through her FB page.
Stephanie's Joy is also showcasing and selling some of Redd's Relics items and it is a good partnership because they also aim to repurpose and reuse items in unique ways. The addition has been a win, win since new traffic has discovered Stephanie's Joy because of Redd's Relics followers and vice versa. In addition, the store has also been showcasing the work of a popular local artist Christopher Pollari who has incredibly interesting pieces that are a treat for the eyes.
One thing Stephanie did want mentioned is that if interested in trying to sell her some of your clean, gently used clothing or accessories, please call her at 604-617-0103 to make an appointment to do so.
Stephanie's Joy, located at 620 Queen Street East is open Tuesday to Saturdays from 10:00 a.m to 4:00 p.m. Sunday high teas are also offered but you must book in advance as outlined earlier in this story. Follow Stephanie's Joy on Facebook to stay up to date on what's happening!