By
Randy Russon
July 4, 2022
Tweet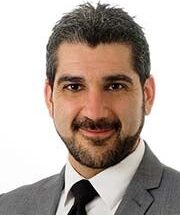 Veteran Sault Ste. Marie member of provincial parliament Ross Romano has an important assignment within the government of Ontario Premier Doug Ford. And in going from being a cabinet minister in the Progressive Conservative majority at Queen's Park to the party's chief government whip, Romano relayed his feelings to Sault Business Matters.
"I am honoured to serve as our chief government whip," Romano began. "Our government just succeeded in winning a huge majority of 83 seats in the legislature. Of those, we have 55 returning members and a total of 28 brand new members who are going to need a lot of help in their transition to the inner workings of government and Queen's Park in general.
"I am humbled that the Premier has asked me to serve in this important role and I look forward to working together with our newly elected team to ensure that we as a government can deliver on another four years of getting it done for the people of Sault Ste. Marie and Ontario," Romano added, in summation.
Notably, the chief government whip is responsible for a number of duties in the Ontario legislature, including the assigning and scheduling of committees as well as being responsible for disciplinary measures of members, the assignment of seats in Queen's Park and assisting members in moving individual pieces of legislation.