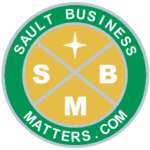 By
Sault Business Matters Staff
January 16, 2023
Tweet
Strive Young Professionals Group recently hosted its sixth annual Algoma Visionary Awards event. The event was billed as a celebration of the exceptional young professionals in Sault Ste. Marie, who help make Sault Ste. Marie an outstanding place to live, work, and play.
Strive annually puts a call out to the public for nominations. Nominations are open to all young professionals between the ages of 19 to 40 in Sault Ste. Marie and surrounding area. The recipient selection committee is made up of 18 industry, business, and community leaders. The Strive executive committee facilitates nominations and distributes submissions for judging only. Strive executives who are sitting during the year of recognition are not eligible to be nominated or to participate in the selection process.

At any rate, following is a list of this year's Algoma Visionary Awards winners.

• Arts, Music & Culture Industry Award sponsored by Skeggs Paciocco Lawyers – Patrick Hunter

• Business Administration Industry Award sponsored by Lallemand Plant Care – Brianne Pringle

• Consumer & Retail Industry Award sponsored by The Community Development Corporation of Sault Ste. Marie – Robin Weber

• Environment & Natural Resources Industry Award sponsored by Lajoie Bros. Contracting – Carter Dorscht

• Health Sciences Industry Award sponsored by Health & Safety Professionals Inc. – Danielle Ritsema

• Hospitality & Tourism Industry Award sponsored by Destination Northern Ontario – Jamie Hilsinger

• Information Technology Industry Award sponsored by Algoma Technology Services – Bassel Alkosani

• Lifestyle & Wellness Industry Award sponsored by Dr. Floreani, O'Toole & Dool Orthodontists- Shawna Mornix

• Public & Social Services Industry Award sponsored by Nogdawindamin Family & Community Services – Naomi Sayers

• Trades & Labour Industry Award sponsored by PUC Services – Matthew Jakibchuk

• Business Professional Development Achievement sponsored by Algoma Workforce Investment Corporation – Taylor Trecroce

• Community Champion and Civic Pride presented by Ontario Lottery and Gaming Corporation – Jairus Patterson

• Excellence in Entrepreneurship sponsored by Sault Ste Marie Chamber of Commerce – Jane McGoldrick

• Leadership sponsored by KMPG – Meaghan Kent

• Young Professional of the Year sponsored by Algoma University – Naomi Sayers

• Strive Member of the Year – Lovleen Sharma
ABOUT STRIVE YPG
• Strive was developed in 2012 by the Sault Ste. Marie Chamber of Commerce to fill a representation gap for individuals between the age of 19 to 40.
• This subcommittee of the Sault's Chamber of Commerce has an elected executive which is rotated annually based on its active membership's votes.
• The elected executive of Strive works with other groups, individuals, and businesses inside of the community to provide networking events, learning development opportunities, and community involvement initiatives.