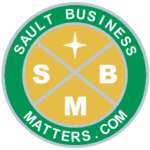 By
Media Release
May 26, 2023
Tweet
EDITOR'S NOTE: Sault Business Matters has received the following press release from the Downtown Association relative to the 'Longest Garage Sale' event which will be held on Saturday. An edited version of the media release appears below.
The Sault Ste. Marie Downtown Association would like to invite you to the Sault's Longest Garage Sale. The beginning of patio season welcomes you, as do the many businesses that will be offering deals. We will have a vendor market set up in the Heritage Lot across from City Meat Market and a Trunk Sale featuring many household items in the International lot.
Anyone who attends the Sidewalk Sale can enter a free draw to win a TCL 50" Class 4-Series 4K UHD HDR LED smart Google TV donated by our event sponsor Skeggs & Paciocco Lawyers LLP. Watch for our representatives in various areas of Queen Street who will be set up with ballots to fill out and QR codes to scan.
Entertainment will be provided by The Borderline Radio Soo on our March Street Stage all day. The Pine Tones will be providing entertainment using the rooftop patio at Village Media from 12-1:30 p.m., and students from the Superior Heights Music Program will be performing from 2:30- 3:30 p.m. in front of Case's Music.
Patios will be open, and there are many food and drinks specials available. Broers Jansen will be offering "Tappy Hour" all day, Low and Slow will be offering mini sliders and slushie drinks at a discount. Sugar is celebrating Carnival week with some delectable snacks, as well. Queen Street will be bustling with food and drinks all afternoon!
Many businesses will be participating and offering various sales. Stephanie's Joy will be offering 50% off all day, Ivory Lane will have $10 and $20 tables as well as 15% off in store, The Rad Zone has 20% off of all used CDs and DVDs and discounts on certain skateboards, Stone's Office Supply has 25% off all art supplies, Stork and Bundle offers 10% off excluding strollers and car seats, Jorie's has large clearance racks, and Fit Bodies Fit Minds has 40% off of select clothing items. Joining in the fun is Unified Wellness with brochures and mini-demonstrations throughout the day.
Our Youth space will be in front of the Memorial Gardens and will feature tables from Algoma Family Services Youth Hub, SOYA, and Shooter's Teen Dances.
The vendor market in the Heritage Parking Lot will feature 16 tables with the wares of several local artisans including Christopher the Artist, Vergot Vintage, Online Savings and Deals, Ron Marks Art, Emma Martinnen Art, FARMASI with Milyka, Ms. Beadzly, Fallen Leaves Maple Products, Steel City MMA, Crowshade by Yen, Art by David Beckett, That Zap Girl, A Heart of Henna, Kate's Kustoms, by-G Essentials, Mother North Studio and Northern Swim School.
The Art Hub on Spring will have Live Art Demonstrations on the sidewalk and Shannon Jondreau of LilyCreek Photography will be hosting Paint Classes at 1 p.m. and 3 p.m. and will be $22 per person for all ages in the lot between Art Gabriel's and Ontario Aboriginal Housing Association. Sign up can be done by messaging the LilyCreek Photography Facebook page. Walkups may also be available.
There is no sign up for the Garage sale at the International lot, it will be first come first serve. Bring your junk, and sell it from your trunk! A washroom facility will be available in this area.
Contact the Downtown Association for any additional questions at (705)942-2919 or email [email protected].