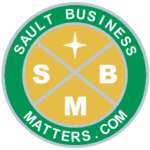 By
Sault Business Matters Staff
October 20, 2023
Tweet
The Downtown Association is passing on a trick or treat message. That is, get ready for an exciting weekend in the Sault's downtown on Saturday October 28, as the heart of the city will come alive with Hallowe'en on Queen.
Dress up in your costumes, and join the many store owners who will be handing out candy and other goodies.
For safety reasons, the street will be temporarily closed this year and the Downtown Association is saying that there will be exciting programming on every block. Sault Business Matters wants to remind everyone to please take caution as you cross the side streets off of Queen, which will remain open to traffic.
• Sault Area Hospital Foundation will be selling 50/50 tickets and will have a Hogwarts Themed "Wanted" photo frame and activities.
• Windsor Place Retirement Residence residents will delight with costumed candy giveaways courtesy of the Sault Theatre Workshop.
• Enjoy street magic by Ryan McFarling on the March Street Stage every 15 and 45 minutes past the hour.
• The Free Mason Lodge will have a table in front of the Downtown Association Office and The Witches of Superior will perform every hour on the hour and at half past the hour with music and dancing for everyone.
• YNCU will host a fun booth between Elgin and Bruce where Blessed Braiding will provide hair braids. But the fun doesn't stop there because Climb N Fun will amaze with a 6.5' blow up maze that will dazzle even the most grown-up of children.
• You'll also be able to explore the Haunted Houses inside the Museum and at Ermatinger Clergue National Historic Site.
• The heart of the City is about to be activated with entertainment and festivities. The City of Sault Ste. Marie is launching programming at the downtown plaza at 10 a.m. on October 28. There will be family-friendly movies, activities and entertainment throughout the day.
Join the Downtown Association to make new friends, discover the new plaza and enjoy everything our community has to offer at the plaza launch and Hallowe'en on Queen.