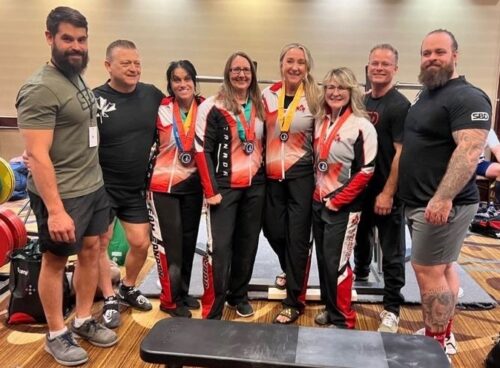 By
Angela Romano
October 16, 2022
Tweet
Sault Business Matters is pleased to share the amazing news that Holly Lasante recently competed at the IPF World Masters Powerlifting Championships held in St. Johns, Newfoundland as part of Team Canada. She returned with a gold medal overall, gold in squat and silver in deadlift.
Holly told Sault Business Matters that "it was an amazing, intense competition filled with strong competitors, new friendships and memories that will last a lifetime. I am truly humbled to have been a part of this group and to have gotten to stand atop the podium."
Holly's dedication to this sport is truly inspirational. Way to go Holly and all who represented Team Canada so well! How lucky are we that we have Holly offering fitness training options from the comfort of your home right here in Sault Ste. Marie. Check out her Facebook page for upcoming options to train with the inspiring Holly!