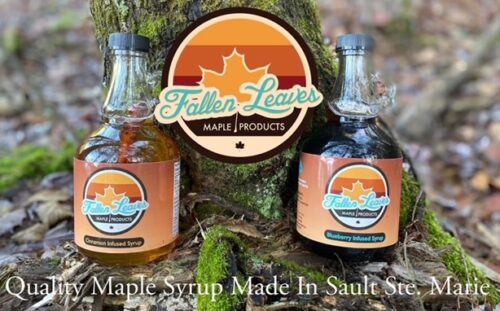 By
Angela Romano
November 12, 2022
Tweet
Fallen Leaves Maple Products is a family operated maple syrup producer operated by the Chevalier family. Phyllis, Dan and Nathan Chevalier established Fallen Leaves Maple Products in 2018 after a humble start making maple syrup in their backyard.
The family has always had a love of maple syrup and wanted to find a way to share their love of maple syrup with more people. They bought land in Sault Ste Marie that is nestled in a conservation area. Through the years, they have expanded to include saffron, honeybees, and a vegetable and fruit garden to reduce their footprint on the environment. They very proudly use many of the produce they grow in their products.
The beautiful property where they have their sugar bush is home to moose, deer, bears, eagles, hawks, beavers, turtles, to name a few. It is these beautiful surroundings that help drive their values and practices. They strongly believe that they are stewards of the land and place and therefore place an emphasis on sustainability, quality, and passion. All of their maple syrup is wood fired and produced in an off-grid operation using solar panels as their main power source. They specialize in infused maple syrup using only natural never artificial ingredients to bring some fun to your bottle of maple syrup. Why have plain maple syrup which is pretty amazing on its own when you can walk on the wild side with the friendly folk at Fallen Leaves and try a bottle of their infused maple syrup?
A look at their excellent website will showcase their very extensive and impressive line of wood fired maple products that contain no artificial flavourings. Infused maple syrups include blueberry, bourbon, cinnamon, chocolate, coffee, mocha, spicy, orange, and vanilla. The cinnamon one is fantastic on oatmeal by the way! They also carry various grades of maple syrup like amber, dark, gold, and very dark. Other product offerings include maple taffy, maple jelly, maple vinegar which is amazing on french fries, and for gift giving a lovely wood branded gift caddy that can carry three of their 250 ml size bottles! In addition, it is worth noting that if you are getting married, Fallen Leaves is pleased to offer their delicious maple syrup as custom wedding favours!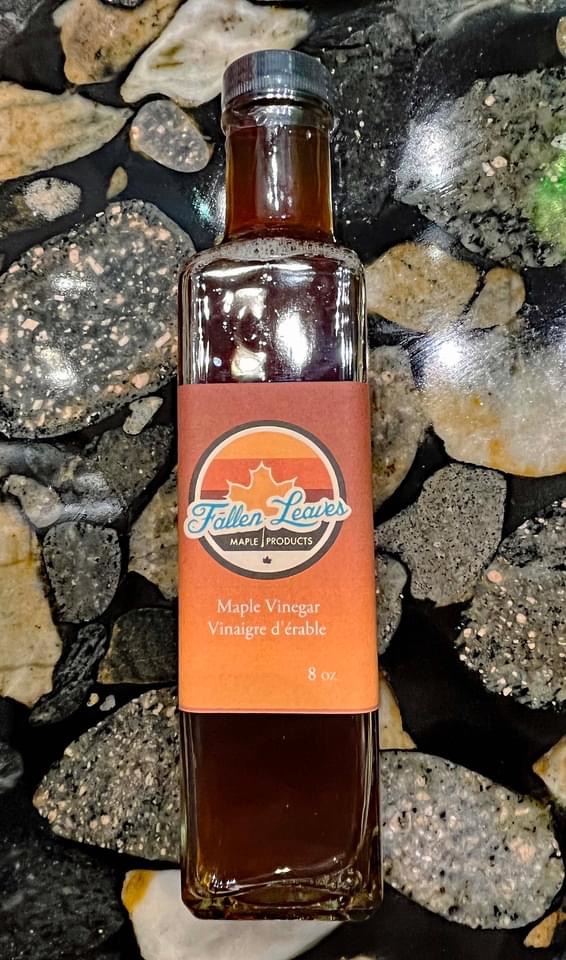 Birch syrup which has a complex flavour profile that provides a unique burst of flavour for different foods is also available from Fallen Leaves. The taste is often described as spicy caramel with hints of molasses, balsamic, and soy. They recommend Birch Syrup in stir-fries, salad dressing, baking, braising meats and vegetables.
For the chefs out there, Fallen Leaves sells their own saffron that is hand harvested and grown right here in Sault Ste. Marie Each fall they begin the tedious and delicate process of picking and drying the saffron to provide you with a quality spice to use in your everyday cooking. They sell their dried saffron, saffron dandelion jelly and even saffron soap which is gentle and moisturizing for the skin.
Other fun items found in their candies and confections produced and sold by Fallen Leaves include soft maple sugar candy, maple lollipops, maple drops, cinnamon maple hard candy, maple crunch chocolate bars made with their own maple honeycomb toffee, maple cotton candy, maple caramel popcorn, candied jalapenos, violet saffron jelly, raspberry saffron jelly and Mongolian Thai Beef Jerky made with their birch syrup by CJ's Dehydrated Products.
They even have some great gift ideas so be sure to visit their website at https://fallenleavesmaple.ca/to have a look and to order in their convenient online store! They even offer free local delivery for orders over $10, or you can find some of their products at CJ's Dehydrated Products located at 518 Queen Street East or at Rome's Independent Grocer.