By
Angela Romano
September 4, 2023
Tweet
Sault Business Matters recently had a chance to catch up with John De Lorenzi, owner of Allora Espresso Imports. A few months ago, he moved into a new unit in the Paul Mall, located at 642 Queen Street East in the Sault's downtown.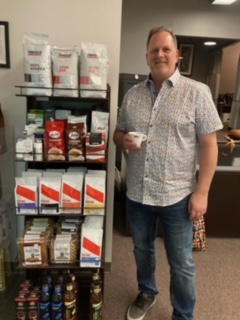 John is very friendly and easy to talk to and you can tell he really loves what he is doing, and it shows! Speaking from personal experience, we recently purchased a Philips super-automatic espresso machine from John, and he was so helpful in showing me how easy it is to use. It is well worth the investment — we love it! He estimates it ends up costing only 25 cents per cup in beans and the money you spend on the machine is paid off in about a year with the savings you have with brewing at home. Imagine espresso, coffee, americano, cappuccino, latte and more, all at the touch of a button!
So how did John even get into this business? He explained that there is a gentleman by the name of Pat Posteraro, who ran the business as a side gig out of his home for over 25 years and he put out feelers that he was looking for someone to take it over. He supplied many local businesses, families, and individuals with machines and espresso beans, and he also provided maintenance and repair services, which is something John now does as well.
John was listening to some podcasts and one day he listened to one that was all about the time in your life when you reach a certain age, mortgage is paid off, the kids are grown, and you find yourself maybe in a career you aren't enjoying as much. The podcaster was talking about it being the perfect time to try something different that will bring you a little more variety and joy even if it is a little scary financially. Why not go out of your comfort zone? At that same time, he got wind of Pat's desire to pass on the business and after many years working HR, he decided it was the right time to try something new even if it meant a leaner income initially. Allora Espresso Imports was his way of seizing the moment and doing something different, so he got in touch with Pat and the rest as they say is history. He enjoys continuing the tradition of providing deliveries of fresh beans to local businesses prior to opening his storefront each day.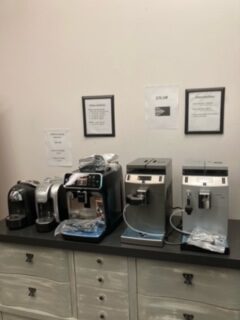 A look at his website will show the many lines of semi and super-automatic household and commercial espresso/cappuccino machines he carries, including Saeco, Philips, Jura, Gaggia, Bellucci, Rocket, Capresso, Fiamma, Caffitaly and more. He also carries a number of high-quality coffee bean brands including Segafredo, Ionia, Trucillo, Mauro and other premium Italian inspired Canadian roasts such as Faema and Rufino. Other items sold include high quality stovetop espresso makers, accessories, maintenance products, biscotti, syrups, and really nice espresso and cappuccino cups which are great for gift giving.
You can even get milk frothers from him, that will allow you to jazz up your stovetop espresso maker. In fact, he has started offering gift baskets for all major occasions such as Mother's Day, Father's Day, Christmas, etc. He noticed that many like to have a good coffee while camping so he will be expanding his product line of non-electric options, including hand grinders, to ensure good quality fresh ground coffee even out in the wilderness! His website also has some helpful videos and blogs to help customers care for their investment, but he will even take care of the servicing for you if you prefer to have him handle that. He will offer house calls if someone finds it difficult to make it to the store to bring in the machine.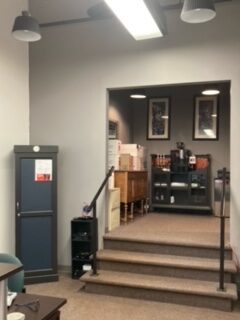 John often makes coffee for people who stop in to have a look at his offerings and likes to show people first-hand how convenient and easy they are to use.People then want to pay him for the coffee so he started a donation jar and is donating the money to ARCH. He recently donated $100 to this great community cause and hopes to be able to continue making donations to them on a regular basis! How great is that?
Future plans include rental and leasing options for businesses and special events.
John invites you to stop in and see what he has to offer and have a chat with him! He is open in the Paul Mall at 642 Queen Street East,Monday to Friday: 9:30 a.m. to 5:30 p.m. (unless he slips away a bit early for golf or boxing workouts), and Saturday from 9:30 a.m. to 3:00 p.m.
You can reach him by phone/text at 705-987-2745. You can find him on FB and Instagram or visit his website at www.alloracoffee.ca. It truly is Machines, Beans, and Other Things at Allora Espresso Imports!