By
Angela Romano
September 27, 2023
Tweet
On September 22, local resident and yes, my kind hearted sister Debbie Romano, organized a private charter of the Miss Marie Boat Cruise as a fundraiser to support the local Alzheimer's Society.
It is a cause close to our hearts since we lost our dear sweet mother Rosina to dementia in 2015 and our sister Maria has recently been diagnosed with early onset Alzheimer's disease at the age of 63.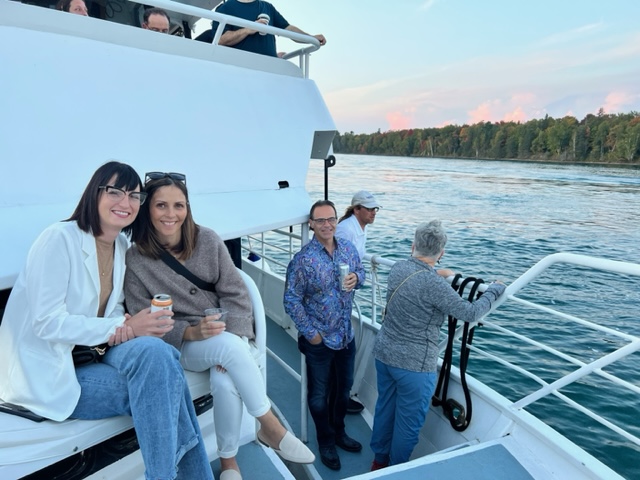 The local Alzheimer's Society provides numerous valuable services and supports for both the people diagnosed as well as their caregivers which our family is using such as the Minds in Motion program, and others like the day program, education and support services, First Link, supportive counselling, support groups, and a video library to name a few. Much of these services receive little to no government funding and so the Alzheimer's Society relies on fundraising efforts and donations to do the valuable work they do.
Close to 100 friends, family, Alzheimer's staff and volunteers and businesses bought tickets and had a wonderful time aboard the Miss Marie Boat! Debbie with some assistance from myself got some prizes and an onboard 50/50 draw was held with 50 percent of that money also being donated to this great cause. Delicious onboard food was provided by Uncle Gino's Pizzeria Inc. who also kindly donated some appetizers.
To learn more about the services available at the local Alzheimer's Society, please visit their website at www. alzheimer.ca/algoma or stop by their office located at 61 Great Northern Road.
Debbie would like to thank everyone who supported her initiative in any way and we are pleased to report that approximately $1,200 will be donated to our local Alzheimer Society. In particular, the following businesses stepped up with generous prizes: Forty-Five Social, Fit Bodies. Fit Minds, Deb's Spa, Mane St. Cafe, Broers Jansen/The Wine Barrell, Dave Ruscio, McDougall Esso, The Baking Bar, Uncle Gino's Pizza, City Meat Market and Sault Business Matters.
Thanks Debbie for organizing this and helping out a worthy cause!