By
Angela Romano
November 13, 2023
Tweet
It was through a co-worker that I was introduced to Michael Hurley, owner/operator of Hurley Repair, who decided to start his own business after working for other companies.
Coincidentally, I had an electric fireplace that was no longer giving off heat for many years so I decided to reach out to him to see if he could get the fireplace working again since it was now pretty much decorative in its current state. He came by in a timely manner, assessed the issue and ordered the part needed and as soon as the part arrived, he returned to install and voila, problem solved without having to get a new fireplace! He was transparent, friendly, affordable and even brought us some delicious homemade cookies — now how is that for great customer service? If you are looking for fast, efficient and friendly service for your appliance repairs, maintenance or installation of appliances, give Hurley Repair a call!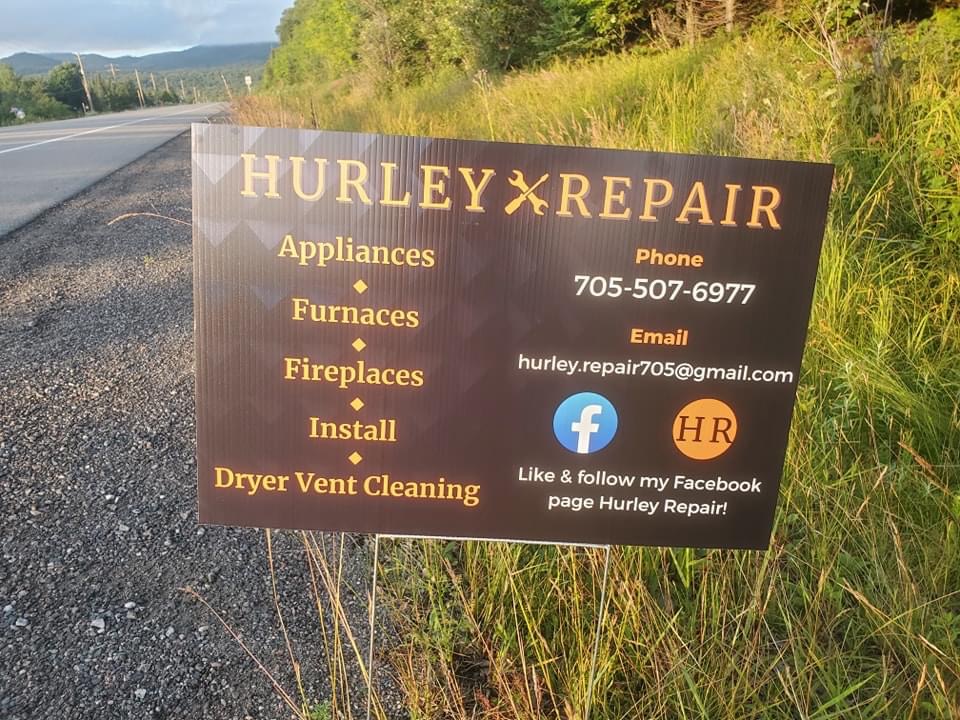 Michael has five years experience in the HVAC field and for appliance repair, he started training about six months ago. He completed his HVAC training/program at Cambrian College in Sudbury and completed an appliance repair course sourced from Rakers Appliance Repair located in the United States. In addition to this, he also spent much of his own time working on appliances and gaining his own experience.
So why start your own business instead of working for one of the larger companies? His experience working for other businesses provided him with the opportunity to develop and grow as an appliance repair technician. Michael is forever grateful for all the experiences. However, he always had this dream of being his own boss, a passion for repairing machines and helping members of our community.
Throughout his time working for other businesses, Michael realized how many people had issues with their appliances and could not find someone to help service their appliances. He realized that he could use his passion and interest in repairing various appliances and machines to help meet the needs of the community and achieve his dream of owning his own business.
Some of the services you can get from Hurley Repair include service and installation for all major white appliances (washers, stoves, dishwashers, etc) and gas/propane equipment such as fireplaces, furnaces and water heaters. He also does dryer and vent cleanouts and installation.
We asked Michael what should homeowners really not put off doing to extend the life of their appliances and make sure they are working efficiently. He had this to say. "There are many things that they should not put off."
Below are his recommendations of some essential things homeowners should take care of to help protect their investment:
Changing furnace air filter at least once every heating/cooling season.
Fireplace/furnace inspection as often as deemed necessary by their insurance company.
Cleaning out condenser coils on their fridge every two years at least.
Having your dryer and vent maintained and cleaned out annually.
Do you have a job for Hurley Repair? Right now, the longest you'll wait for a diagnostic or maintenance is a few business days so reach out!
We asked Michael what his favourite part of his job is and he explained how getting the opportunity to meet the amazing people in the Algoma community brings him a lot of happiness and pride. He enjoys hearing some wonderful stories from the people he meets, meeting some fluffy fur friends, providing quality service, and educating the public more on taking care of their appliances. He always welcomes home owners to observe while he works and is happy to provide explanations regarding his process.
With regard to prices, it will vary depending on your location. Please reach out to him and he will be happy to provide a quote.
If you need to get in touch, by phone is the best method for contact and for the fastest responses. His cell is 705-507-6977. If he is unable to take your call immediately, he highly suggests texting him with the following information: name, address/location (SSM, Goulais River, Echo Bay, St. Joseph's Island, etc), general description of the appliance issue and, if possible, the model number for the appliance.
Alternatively, you are always welcome to email him at [email protected] or message him on Facebook and he will do his best to respond within a few hours.
Hurley Repair recently received a Platinum Standing award on the Community Votes Sault Ste. Marie in 2023 in the Appliance Repair category! Congratulations Michael!
Follow his Facebook page, Hurley Repair, for any upcoming promos!